Worktops lost their shine after using them for many years. We put a lot of effort into making kitchen things up to date.
If you're looking to renovate your worktops and have a question in mind, can you paint kitchen worktops? Then this article is for you.
Let's Discuss painting kitchen worktops or not! 
Here's Do Kitchen Worktops Be Painted or Not:
Beginners can paint kitchen Worktops to renovate their look. Paint provides a new look to worktops. If a worktop is laminated, then painting it may get tricky because it takes more effort to prepare it for paint. But it's possible to paint a worktop with suitable paint. Two coats of paint are recommended. The worktop needs to be left alone for at least 4-5 hours to dry after applying paint. Take care of it for a week for great shine by avoiding touching its surface.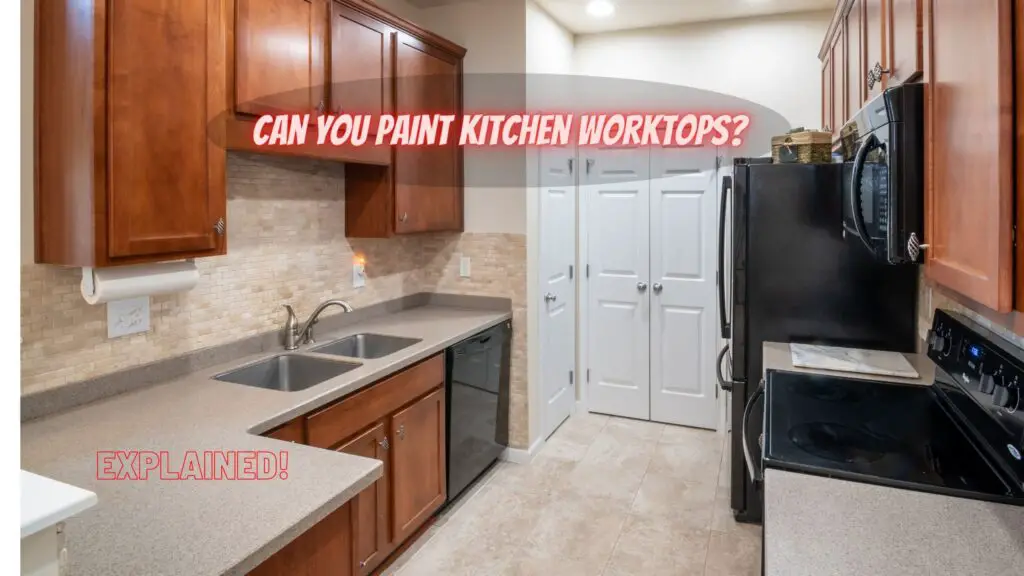 Can You Paint Or Cover Kitchen Worktops?
Painting and covering a kitchen worktop has its advantages. You can go for a suitable method which is easy and great for you based on your requirements. If you are confused about which method will work best for you, read this section carefully. 
We only paint items of old furniture like old doors, worktops, cabinets, countertops, etc. There is no painting requirement for new appliances, but the Cover method makes a difference here. You can laminate or wrap(cover) a new worktop. Covering also provides safety and a great look to the kitchen worktop.
It's your choice of painting or covering a kitchen worktop, and you can freely choose which method is best for your budget or type. The paint option is more affordable than wrapping it.
How To Paint Kitchen Worktops?
Painting any furniture or thing is a significant step for making your kitchen look good and durable. We will describe all the steps from start to finish for repainting or painting kitchen worktops or countertops. 
Here's Are Steps To Paint Kitchen Worktops:
First, you need to have all the essential tools and products which play their role in painting, scrubbing, and preparing.
Collect these appliances: sandpaper for scrub, Spanje roller, painting tray, rust oleum countertop coating paint, countertop cleaner, tape to prevent paint.
Now start preparing the countertop by cleaning and scrubbing its surface.
After scrubbing and cleaning the worktop surface, then use an on those things like on sinks, disk wall corners, etc., where you want to prevent paint from running into.
When preparation has been done, clean the worktop and check if there is anything on the countertop. If there is anything on its surface, take it and place it in another place.
Now take your paint and take it on the roller.
Start applying the first coat of paint on the surface.
Leave the worktop at least for the dry first coat.
After the first coat dries, apply a second coat of paint and leave it to dry.
Now you have a well-painted kitchen worktop, take care of it for at least seven days because newly painted objects need 6-7 days to gain the ability to prevent soft scratches on them. 
All the steps mentioned above are straightforward to follow. Please read them carefully and implement them for the best results.
Can You Spray Paint Kitchen Worktops?
Spray paint is an easy way to transform the color of a worktop or countertop. But on the other hand, you need to have experience controlling spray paint pressure while painting a worktop. 
Like most beginner painters, some people hold a spray paint pressure on a specific surface area, resulting in a nasty paint coating. This method is easy to use, but you also need to understand how much paint a single spray is adding on the countertop's surface, etc.
Preparation of an object is more important than perfect paint. If you pay proper attention while perp on the worktop, then you will get great results in the end. 
Let's discuss how to use spray paint for worktops: – The first step is to open the seal of SPRAY CAN, then test it on the rough surface; after generating the confidence to use it, you can start applying the first coat of paint on the surface of the worktop. Leave it for 4hours. After 4 hours, start applying the second coat of paint on the worktop again. Now you leave it to dry.
You can get excellent shine-looking paint on your worktop by following the above steps. Don't forget to take care of the painted surface for a week. Avoid touching it for 6- 7 days. 
Can you paint kitchen worktops with french paint?
Some people use Frenchic paint on their kitchen worktops. Still, this paint is not recommended by experts because french paint needs more security efforts like you are not placing high-temperature things on worktops painted with french paint. You can use this paint of your own choice.
Wood and laminates are recommended for wood countertops. So you can go with the easy and best option, now it's your choice which way is best for you.
What Type of Paint is suitable for kitchen worktops?
Experts recommend water-based acrylic paint and primer for the best topcoat. This paint is best for heavy use areas. Most home improvement stores have a variety of collections in water-based acrylic paint.
Remember that acrylic paint is available in different units. Only go for a water-based acrylic paint and premier unit. This paint lasts more than regular paints. 
Using the best suitable paint for kitchen worktops will not fall or get rough after a few months of applying. That's why these paints are best for kitchen heavy work countertops.
How Long A Painted Kitchen Worktop Last?
A painted kitchen worktop lasts for 10 – 12 years, and it also depends on the quality of paint and painting way. Most kitchen appliances brands use high-quality paint on new worktops or new countertops, which last for many years. 
Painting an old worktop is a great idea for giving it new life; for example, an old worktop might have some damages and scratches, by applying paint on old worktops gives new life to kitchen worktops. It repairs all scratches and damages in the prep process, making an old worktop or countertop new.
If you are painting a worktop for the first time, you need to follow proper instructions like preparation, suitable applicants and paint type, etc.
Always use quality paint that guarantees to last a long time. Most paint boxes also contain a guarantee tag that informs about the quality of paint, and it may contain last year's mention, waterproof details, etc.
Final Thought!
Painting a worktop is straightforward. Some people use laminate covers to renovate worktops or countertops. Paint gives new life to the worktop, and it will allow you to transform the color and quality look. Kitchen designers also recommend implementing and learning new painting skills for kitchen appliances like cabinets, worktops, countertops, other furniture, etc.