There are many thicknesses of drywalls that exist to use on walls and ceilings.
Experts recommend different thicknesses of drywall to use in a specific area. 3/4 drywall is one of the rarely used drywall for home improvement. However, you can use it if you require it.
3/4 drywall panels are used for steel-framed walls and special fire-rated walls. ¾ thickness comes in inches. House builders use 3/4″ panels for exterior walls on homes built in the late 50s to mid-sixties. Their technique did not use one sheet of 3/4″, they use two sheets of 3/8″ for exterior walls.
Let's dive into the ultimate guide on ¾ drywall.
Does 3/4 Drywall Exist?
We often see that when people plan to replace their old drywalls with new ones, they start searching for various suitable drywall thicknesses. 
When they found 3/4 drywall panels in any store for the first time, they were amazed by the thickness of the panels.
Yes, 3/4 drywalls exist, but they're not that popular in home improvement. Those people who use this type of drywall want panels for special fire-rated and steel-framed walls.
¾ thickness is not good for every area. For example, don't use it for the ceiling without contacting or consulting with your contractor.
You can purchase this panel from any nearest store. But if the near home improvement store doesn't have these panels, try online home improvement stores.
Most houses built between the fifties to sixties have ¾ drywall on their exterior walls. Keep in mind that these houses have double drywall panels, not single ¾ pieces.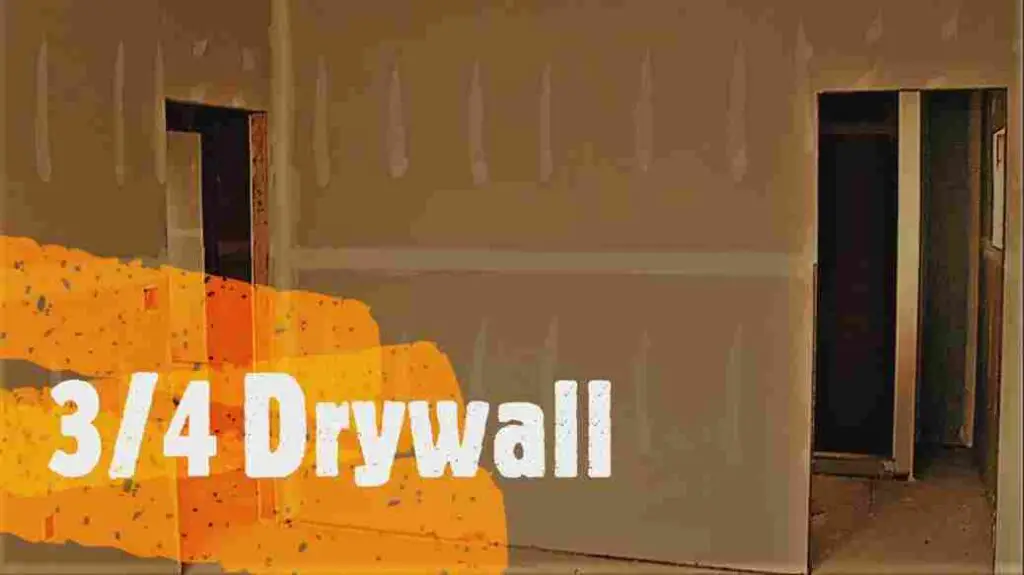 How Much Does 3/4 Drywall Cost?
Drywalls have different price tags. Every company charges a different amount than another company. The material, thickness, size, and type of panel decide how much it will be charged to customers.
On average a 4 foot by 8 foot ¾ drywall price is $ 20 – $ 35, and a 4foot by 12 foot ¾ drywall price is $25 – $45. 
A bundle of panels may charge you lower on each piece, but if you only need one drywall piece then it will charge you more as compared to bulk purchasing.
Not all stores charge the same amount on a specific type of drywall, you have to check from more than 2 stores to get the best deal on product purchases. However, most offline stores rarely offer ¾-thickness drywalls. 
If your local market is charging you more for it, try to visit online stores to get any chance of saving money during its purchase. 
In our research, we found that different online and offline stores are offering different Prices of 3/4 drywall. If you're planning to replace your drywall under budget, try to visit many stores if possible. Purchase it by checking quality+prince, don't make any decision by just seeing the price. 
Most of the time cheap price panels get damaged faster. Build quality and material needs to be top-notch if the price is medium or higher. If the cheap rate drywall looks rough or not well then think twice before purchasing it.
What Size Screws For 3/4 Drywall?
Everyone knows that Drywall screws are the best option for securing full panels of drywall to walls or ceilings. The right choice of screws is very important for proper drywall installation.
#6 Coarse Thread Drywall Screws are best for 3/4 drywalls, they are also known as 1-1/4" size 3/4 drywall screws. The length of the #6 Coarse Thread Drywall Screw is best for 3/4 drywall excellent grip.
These screws are very affordable for every budget drywall replacement. However, the store's offer and discount may change its net price. Always choose those screws that have aggressive threads for superior grip.
Try to find durable strong metal steel-made screws for 3/4 drywall, they are more durable and will prevent rust on them for a long time.
We often see people make mistakes like they don't see the sharp point of the screws. Always choose those screws for drywall installation which have sharp points to pierce through the drywall.
3/4 Drywall For Ceiling:
3/4 drywall is not suitable for the ceiling. You can use 1/2-inch drywall for the ceiling. The thickness matters most when we want to use drywall for the ceiling. ½ is one of the most popular and most used drywall types for house ceilings.
½ inch drywall thickness is unrestricted in a sort of panel length. It is frequently used for ceilings and walls. If you are looking for a standard size of drywall then 1/2 inch is a standard type of drywall for most residential spaces. The best thing is that you can use it for wood and steel framing, which is a pro point of 1/2 inch drywall thickness.
Where To Get 3/4 Drywall?
There are a few online stores where 3/4 drywalls are available. There are few chances to buy it on an offline store because most offline stores do not have 3/4 drywall panels.
You can buy 3/4 drywall from lowes and USG's online store. If you want additional sellers, try to search on the internet or visit nearby home improvement or drywall stores. 
Sellers list vires on manufacturer and supplier which mean as its demand grows, its availability in various stores will increase.
Most of the time our nearest store has the same thing which we're not getting from online stores. So first try to find it out in your nearest drywall stores. if you will not find it in the nearest store then search for it online.
Tip: If you will not find it in the nearest store or on the internet, ask the person to tell you where they have bought it. This tip only works on those who already have 3/4 drywall in their house.
The demand for ¾ drywall is less than other drywall thicknesses and that's why we rarely see or find it in any store. Don't feel stuck if it was not available, keep searching in stores. You will surely get it in any store.
When To Use 3/4 Drywall?
It Is very important to know which drywall type is used for what purpose. Always consult with the nearest home improvement contractor to know which drywall is suitable for your aim work.
3/4 drywalls are used for walls. Unfortunately, these drywalls are not good for the ceiling. However, you can use it on exterior walls and somewhere on your house wall. Attach them perfectly with the wall to avoid any issues with it.
Most old house contractors used this ¾ thickness drywall during construction in earlier fifteen to sixteen. At that time these drywalls were much more popular. But nowadays people mostly prefer ½ drywall for the ceiling and their walls.
It is common to see that most of us don't know how to use ¾ drywall and when to use it. We can only use it properly when we know the process. 
If you feel you have no knowledge to use ¾ drywall, approach your house contractor or drywall expert to do drywall work for you.
You can also consult with your 3/4 drywall seller to know about its usage in your house. Sometimes companies manufacture unique products of the same dimensions which work more advanced for more use.