Kitchen bars help a lot for eating, working, and food placing. But nowadays, as fashion and kitchen designs change, the popularity of bars fluctuates.
If you're thinking of kitchen bars on the way out, then read this guide till the end. In this guide, we covered all about kitchen bars trends and fashion. It will help you to plan your kitchen interior design.
Let's discuss whether you can use bars or not!
Here's Are Kitchen Bars Out Of Style Or Not:
Raised bars are out of fashion, but most house owners prefer bars in the Kitchen. These bars are not great for toddlers and old age people. People with toddlers and older folks avoid using them because of their height. But if anyone wants to use them, there is no old fashion reason to use them.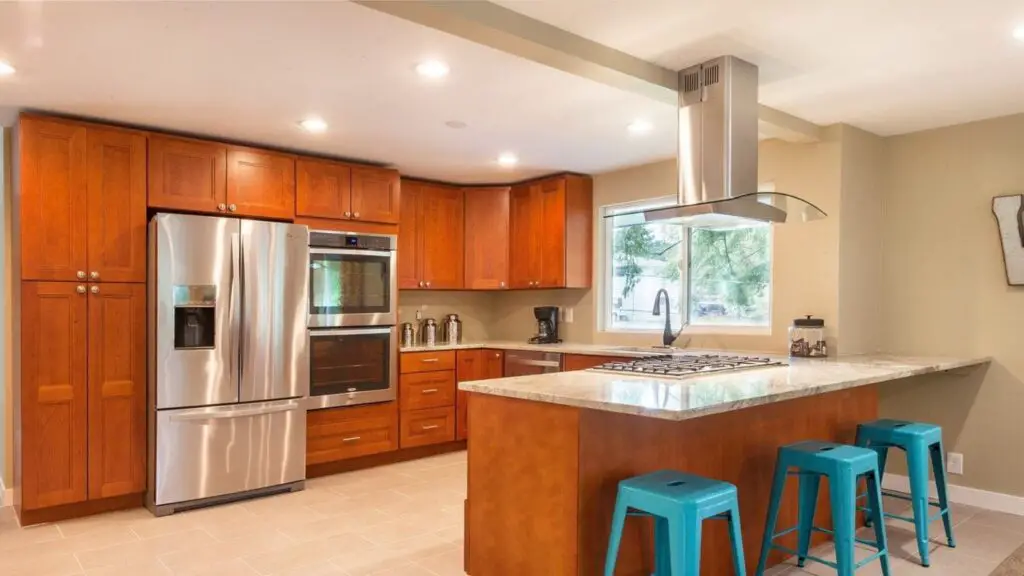 Do You Need A Kitchen Bar?
Using kitchen bars may help you a lot, but you also need to consider some good points that will help you best. If you're planning to build a new kitchen, it's common to get questions in mind about using bars as some people name their kitchen islands. But always know using an island is worth it to you.
Kitchen bars are helpful to add counter space to your Kitchen. You can do many sitting on the bar chairs and placing your things on the bars' countertops. If you need counter space while cutting vegetables, sitting your kid for homework near you, doing handy activities by sitting on chairs, then the kitchen bar is a great idea.
If you have less space in your Kitchen, tiny houses, kitchens, bars, or islands are not for you. A bar for the Kitchen covers more space, and it will cover the center space of your Kitchen. The standard kitchen bar height is 42 inches, and you can also order custom with above-average height.
It's also your personal choice. If a kitchen bar is worth it for you – feel free to try it out, it will not be out of style in most areas.
Why Are Kitchen Bars Out Of Style?
It depends upon a person's personal choice and the design of the Kitchen. Most modern kitchen designs contain kitchen bars as islands, but some less area covering kitchen designs avoid it because it needs space to install.
Raised bars are going out of fashion, which means they are out of style, but you can freely use them if your family has no toddlers or elders. As we discuss, height creates a big difference. That's why the new generation is avoiding using them. You will make the right choice if you know the purpose of the kitchen bars.
It also depends upon your personal choice, and some peoples copy different styles and fashions from other's homes. It's not mean that you should also avoid using this appliance. If you want to use them, go for it.
Real estate also plays a role in this reason. Most customers (buyers) don't want kitchen islands bars in the home because they prefer open space. It may also explain why kitchen bars are going out of style.
Is It Ok To have No Bar in the Kitchen?
No bar in the Kitchen means not worrying, and it's your choice which thing you want to use or hold. But having kitchen bars also has benefits. It will impact the valuation of homes during selling homes. You can also use them for sitting and doing your work. It acts like worktops.
If you need counter space or a breakfast place, then a kitchen bar is your first option. It allows you to explore more with a satisfying feel. 
Sometimes we wish to purchase an object where our family and we can complete their breakfast and find a dining table. But homes don't have space for big heavy dining tables, so bars play a role here. You will use it instead of a dining table for breakfast and lunchtime.
Designs of kitchens with bars also need bars in the Kitchen to complete the design and look. We suggest going to that house where someone is using a bar in-home. By going to that home, you will feel – can you require a bar in the Kitchen. It is a great idea to test an appliance without investing anything, and it only takes effort.
What Can You Use Instead of Bars?
You can use a dining table, desk, bar cart, small island, large console, regular work table, storage table, breakfast nook, flirting counter instead of kitchen bars or island. Find the best counter space object to use instead of bars. Use the chair for sitting and placing your things on a glass table, giving you the feel of an island.
If you use an alternative kitchen island, it will give you the experience of using a bar. Maybe it will generate courage in your mind to use a bar when you're confused about using the bar in the Kitchen.
Many kitchen designs without islands and bars also look great with just tables and chairs. You can go that way which is suitable and affordable.
Final Thought!
Not all kitchen bar designs go out of style, but some units like raised bars are out of fashion, impacting their trend and popularity. If someone wants to install these bars in the Kitchen, they can freely do it. It also depends on the design of the Kitchen and home because some designs didn't contain them in interior specifications. Our research found that the kitchen island trend is always there.