If your Breville toaster oven makes a high-pitched noise, something is wrong with the internal components. This is a common problem that can be found in high-voltage-consuming devices.
You may also experience high-pitched noises from the Breville toaster oven even if it is turned off after use. However, it is possible to fix this issue, and there is no need to replace the device.
Technically, you may hear a high-pitched sound from your Breville toaster oven when its heating element is worn out. This means that any part of the heating assembly is burning or close to burning. Heat the element until it turns red, and see if there is a black part that is causing the problem. Replacing the damaged part will solve the problem.
Let's understand what you should do when your Breville toaster oven makes high pitched noise.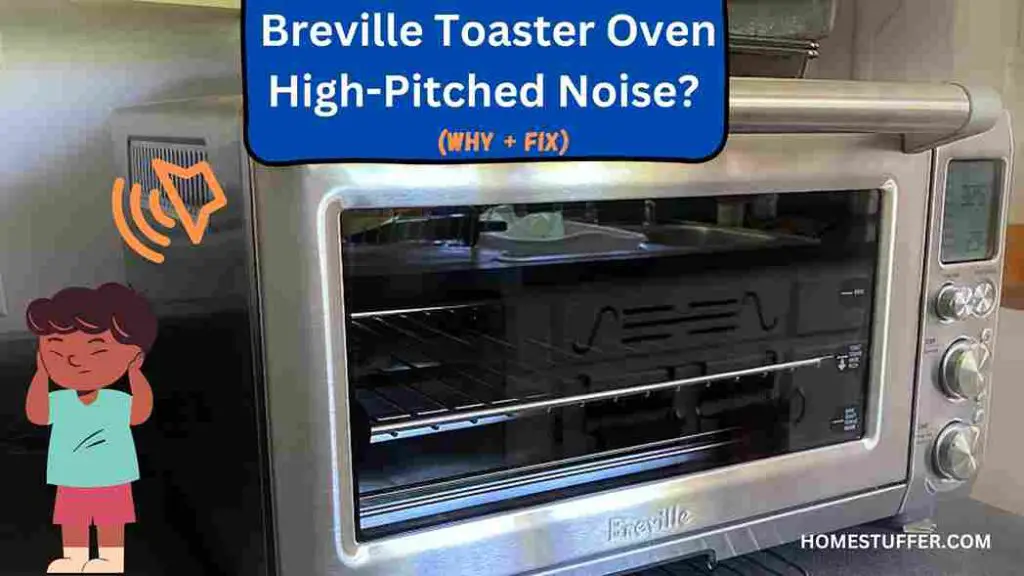 Why Does a Breville Toaster Oven Make a High-Pitched Noise?
Many people had experienced this issue with their toaster ovens as per their feedback shown in this appliance's review section. Sometimes this problem gets solved automatically, but sometimes we have to solve it.
Breville toaster ovens have 4 heating elements to maintain temperature and preheat the oven. 
These elements are usually born out when they get overheated continuously for a  long time. If the oven is working but the loud noise is coming when the device is turned off, this is due to a bad heating element.
If the toaster oven is running or the conventional fan is on, the high-pitched noise is caused due to the fan. When the fan blades are dirty, lubricant is less on the fan shaft, or its motor goes bad, you will hear unusually loud noises.
High-pitched noise always comes when components like a fan and heating assembly have problems with them. You cannot see the internal component of the toaster oven from the outside. 
You have to open its covers to look at the components. As it has conventional features, its fan is located on its right side. To lubricate its noisy fan, you have to open its right side cover only. Use non-flammable silicone grease spray as a lubricant. 
Avoid other types of lubricants such as oil and grease as they may be flammable. If its heating element has some black part that is causing high-pitched noise. You have to replace that component. 
Disassemble the bad heating element and a new component there. You will find new heating assemblies online or offline in most appliance repair stores. The Breville brand doesn't sell its product's spare parts. Some online stores are offering exact components. 
Is High-Pitched Noise Normal in Breville Toaster Oven?
It is typical to hear different noises from Breville toaster ovens when something is wrong with them. Different faults in components produce different noises. But, it is not normal to hear some noise from your Breville toaster oven.
Furthermore, if you hear some sound when the device changes to relay cycling to set a new temperature, it is normal. But if the appliance produces high-pitched noise, your toaster oven is under repair. 
Most people get surprised when they hear noise from their Breville toaster oven when they are not using it and it is turned off. 
If you have faced the same problem, this issue is in your device due to malfunctioning in the circuit board. 
Because it is supplying power to the element even if the power is off. You will face this problem when the device is plugged in but the power is off on the toaster oven.
How to Fix High-Pitched Breville Toaster Noise?
It is necessary to fix the high-pitched noise coming from the toaster oven. If the noise is cooking for more than one month and you're not fixing the problem, it can cause more problems with your appliance hardware.
As we know the bad heating element is causing high-pitched noise, you should have a new exact model component for repair. 
Look at model no. of your device and find the component according to the model number. If the model no. doesn't match the new component, it will not be perfect for replacement.
Tools required: screwdriver and a new heating assembly.
Time: 20 – 40 minutes
The following are steps to fix a high-pitched toaster oven:
Find what heating element is needed to replace. Turn on the device and start preheating it. Turn it on until its element turns red.
Once elements turn red, check for a black part on them.
If you find any element that has black on it, search for the same element in the spare part store.
After having a new part to replace, unplug the Breville toaster oven.
Disassemble the bad heating element assembly.
Take a screwdriver and open the element holding screws. And take out the opened component from the appliance.
Now, assemble the new heating element in the same place. Make sure the screws are fully tight after fitting the new component.
Turn on the device and now use a high-pitched-noise-free toaster oven!
To stop the noise temporarily, you should unplug the appliance when it is turned off.
In case your device is brand new and is under warranty, you should contact Breville customer support for doorstep repair. If they have a temporary no-doorstep repair service, they will deal with you with the best possible fix.
Conclusion
Check the internal components of the toaster oven to detect faulty parts to replace. Read the model number to get a new exact and right spare part. 
Open the side cover for fan replacement In case it produces noise), or disassemble the heating element(in case it is burnt). 
Replace the noise-creating component and the noise will stop automatically after it.