Cuisinart is a manufacturer of high-quality appliances. In fact, some of their devices also have drawbacks. You may know that if your Cuisinart air fryer toaster oven makes a noise.
This is a common issue that many of these appliance users reported. Sometimes it produces a normal mechanism noise, but when it makes a loud noise, there seems to be something wrong with it.
Technically, when the fan needs to be lubricated, it makes a loud noise as it delivers powerful airflow. This can also happen when some food oil and grease get stuck on the fan blades or motor shaft. To fix this issue, use a non-flammable silicone spray to lubricate the fan.
Let's understand why your Cuisinart air fryer toaster oven is making noise and what you should know to fix it.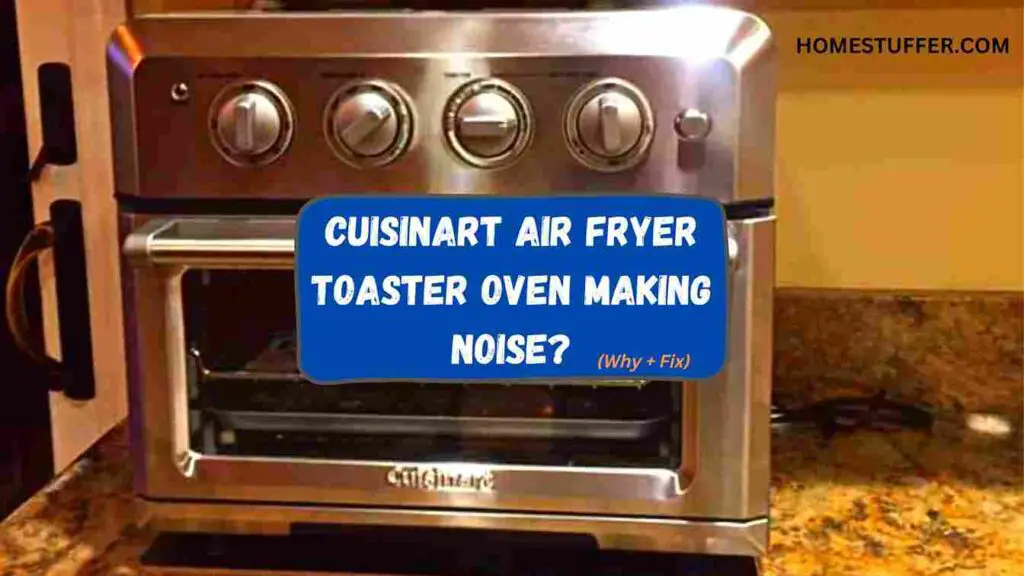 Reason Cuisinart Air Fryer Toaster Oven Making a Loud Noise:
Several types of malfunctioning in internal parts can lead the Cuisinart air fryer toaster oven to generate noise. However, it can also happen when you operate the device wrongly. Sometimes it makes a noise when it starts to warm up and after that, it stops noisily. It can not be guessed when the appliance starts to make noise. Let's see what causes it.
Here're the reasons Cuisinart Air Fryer Toaster Oven makes noise:
Its fan needs to be lubricated: 
Old fans usually produce due to a lack of lubricant. The loud sound you're hearing is Cuisinart Air Fryer Toaster Oven Fan Noise. If your appliance is old and you're using it regularly for years, it can dry out the fan motor shaft connected to its blades.
The dry shaft always generates sound when it tries to rotate. If there is no lubricant on the shaft, there is always the risk of rust development as it is made of iron. Some lubricants are not suitable to apply to electronic components.
For instance, oil and grease that may be flammable are not good to lubricate the toaster fan shaft. So, always use a small amount of non-flammable silicone spray to lubricate the device components.
Food grease or oil Stuck on fan blades:
As an air fryer, this oven is mostly used for little oil-using recipes. In case you're using too much oil on the food, the oil may evaporate in airflow. The residue of foods such as grease or oil is stuck on fan blades if your Cuisinart Convection Toaster Oven is Making a Humming/Grinding Noise.
This appliance prepares food with powerful hottest airflow. Dirty blades also affect airflow speed and circulation. If the fan is clean l, it will run noise free. But if the fan is dirty, then you may hear the noise as the fan rotates and air hits the dirt.
You will only know whether the fan is dirty or clean after keeping an eye on it. This is not a huge problem to solve. You just clean out those dirty residue-carrying fan blades.
You have placed the appliance in the wrong space:
Most people carry their air fryer toaster ovens on counter space. The way you place the appliance affects its performance and status of work.
The air fryer toaster oven should be placed in an open area where it has good air circulation. In case you have placed it very close to the wall, it will affect the air circulation of the device.
You will hear noise from your device when you place it on the countertop and its back and wall has only a 1 – 2 inches gap between them. Keep this device in an open space on the countertop.
Fan motor goes bad:
If you're hearing unusual sounds in your appliance and wondering why Cuisinart Air Fryer Ticking or rattling Noise, you should check its fan motor. Usually, when the motor goes bad you will get smoke or a burning smell from the device.
It will slow down the speed of the fan and you may also see that your dishes are taking longer to cook than usual. However, the burnt fan motor of the oven cannot be repaired, it only needs replacement.
When the device assumes there is less airflow, it speeds up the fan. And if that speedy fan affects the motor, the motor will work improperly.
Loose blade or fixing nut:
Appliance parts should be fitted perfectly. Loose blades or fixing nuts can make noise with vibration. If the nuts are loosened, it will damage other parts along with the blades. However, you will have to look at the fan for checking its nuts and fixing the status.
If the nuts are loose, use a nut driver to tighten them. You may have to replace the fan blade if they are not capable of tight up. You should also check how the fan is rotating under the air fryer toaster oven. If it doesn't rotate in even motion, it's a sign of malfunctioning in it.
How to Fix a Noisy Cuisinart Air Fryer Toaster Oven?
Even if you have no experience in fixing noisy electronics,  you can fix the noisy component of your kitchen air fryer toaster oven. Just follow all the described steps. Be sure you do every step slowly because if you do it fastly and you have no experience in this work, there will always be a risk of doing steps wrongly.
Tool required: a screwdriver, a nut driver, and a non-flammable silicone spray. 
Time: 15 – 30 minutes.
The following are steps to silence a noisy Cuisinart air fryer toaster oven:
Unplug the device from the outlet.
Reach its airflow creating a fan.
Open its blades with a nut driver, and use a screwdriver where it is needed.
Grab a non-flammable silicone grease spray and lubricate the fan. Apply only a small amount.
Clean the fan blade if there is some residue stuck on it.
Assemble the fan on the shaft back. Tight all the screws genuinely and perfectly.
Plugin the Cuisinart air fryer toaster oven again.
Run it and test the noise volume. Now your appliance is on silent mode.
Note: Don't use oil or grease as a lubricant because they may be flammable.