Some people don't like to put their toaster ovens on countertops because they don't want to showcase any appliances in their kitchen.
If you want to have it in the form of a built-in and also wondering if a toaster oven can be built in? This guide is for you. We have explained whether a toaster oven is designed to be built in or not.
Technically, a toaster oven cannot be built in as it requires ventilation and clearance around it. However, if you don't like to use it on the countertop, you can place it on a pull-out drawer, open cabinet, or wall shelf.
Let's dive into the guide to know about the topic of built-in toaster ovens.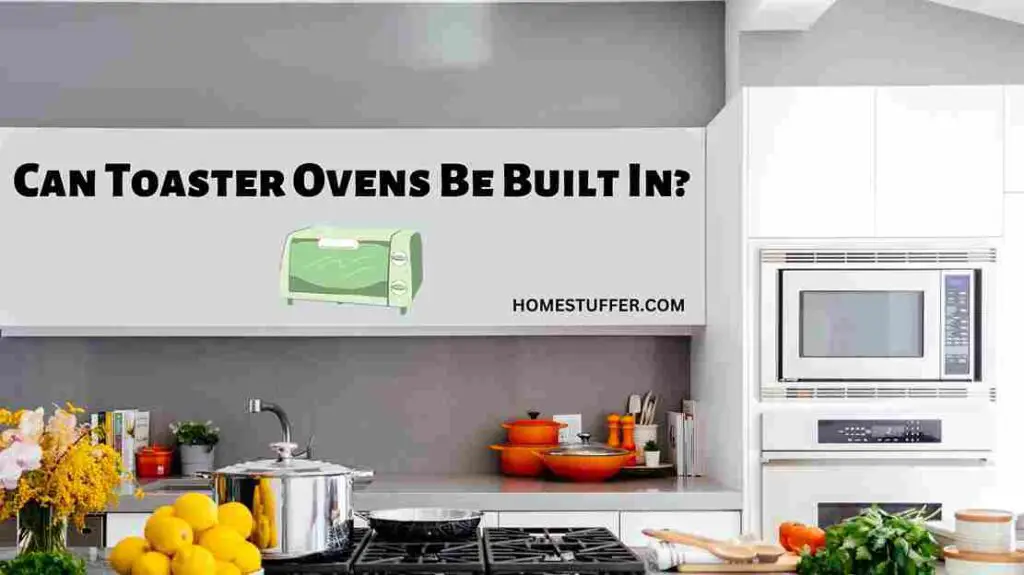 Toaster Oven Built Into Cabinet:
Whether you just bought a toaster oven or planning to do a kitchen renovation, the first step usually is deciding the location for appliance placement.
Unfortunately, toast ovens are not designed to be built into cabinets, but you can put them into cabinetry when there's clearance and ventilation safely maintained around the device. However, you can also mount it under the wall cabinets.
You should not build it inside because of several reasons, such as its heating elements requiring a flow of air around it to cool down and pass heat away. 
If something is a lot closer or in contact with the toaster oven, the risk of fire production would be there.
If you have vacant space in your cabinet or pantry, you can put it in there, just verify nothing is closer to it about 5 – 6 inches. It requires minimum clear space around it, about 5 inches for the top and 4 inches for the back.
Indeed, this appliance cannot radiate heat outside as other ovens do. But manufacturers don't allow it to be built in. 
You should check companies' given user manuals to understand the instructions for device safety and maintenance. 
The ideal space for a toaster oven is a countertop, but as you don't want to place it there, you can also try to pull out the drawer. 
Moreover, if you place it in a cabinet or in a pull-out drawer, you must keep an eye on it when it is On and cooking something. But if you place it on the countertop, there is no need to remain with it when it's running.
Do they Make Built In Toaster Ovens?
Unfortunately, there's no toaster oven that can be built in. no matter whether the unit is designed by x company or y company, technically, all manufacturer's designed models follow the same mechanism. However, you can mount it to a cabinet instead of a microwave location.
This appliance is a quick heating elements device. Basically, when we run it, its outer body radiates heat and may spread heat 1 – 3 inches around itself.
No company still mentioned that their produced toaster oven is designed to be built in. You should look for alternative options. 
We have noted that most people see some pictures of built-in microwaves and misunderstand that picture shows a built-in toaster. If the same thing happened to you, don't be surprised.
Some manufacturers officially described "don't try to build in it" on user manual instructions.
However, you can find a variety of toaster ovens on different marketplaces in different colors and with great features.
We have done some DIY projects where we have placed this type of small appliance on the pantry wall shelves. 
You can put it into the cabinet after buying it. People have been following this technique for years as we found this report from several discussions. Just ensure its safety needs, such as ventilation and clearance around it.
Can You Enclose a Toaster Oven?
You can install it under the cabinet, but consider it requires clearance for airflow. Take 5 – 6 inches of space empty around it from each side. It requires sufficient airflow that's why it cannot be built in.
Don't store it inside a cabinet where humidity levels are high because some iron parts can get rusty due to reaction with air and moisturizer.
Some new models of toaster ovens stay cool outside, but old models do heat outside as they can heat up to 500°. If the airflow around it is proper while placed in the cabinet, that can help it to cool faster.
Some people claim their oven doesn't require ventilation, but that's not a fact. Most toaster ovens have thin walls that can heat quickly and get hotter outside. If the ventilation is not proper, handling temperature will be difficult for the device.
How to Hide a Toaster Oven in the Kitchen?
Some people like to have a properly organized kitchen, where all things are visible when needed. As fashion and design are growing in the kitchen decor sector, some people like to hide appliances that they think are not compulsory to show off.
Generally, the majority of people place their toaster oven on countertops as it's an ideal location for small daily-use appliances. In case you want to hide the toaster oven in the kitchen, you must follow some best practices listed below. 
Here's how to hide a toaster oven:
Use Pull-Out Drawer: A pull-out drawer built as a small appliance garage would be a great idea for hiding small appliances such as toaster ovens, microwaves, or pans. However, the drawer should have doors, so it can technically hide items.
Fit a pull-out drawer on the wall or in a major cabinet where space will be clear around the device. First, clear the drawer. Next, carry the appliance and place it on the drawer base. 
Don't plug in the cord whenever you don't need to run it. As you placed it in a closed space, you must remain near the device whenever you use it.
Under the Cabinet: To be clear; not all cabinets are capable of storing a toaster oven in them. Because of limited space.
 If you have empty cabinet space which is easy to access and an outlet is fixed there, you can choose that space for placing a toaster oven. 
It also requires some hustle to bend whenever you want to operate the device if once it is placed under floor cabinets. Follow the same producer to install it.
Store in a Small Appliance Garage: If you have an appliance garage in your kitchen, that's a great thing. 
Just make sure there will be proper ventilation and clearance around the device if you installed it there. This is the best idea and alternative to the built-in toaster oven idea. 
However, most appliance garages don't have a built-in power outlet. In case yours also don't have it, first, install an outlet before placing the device there.
Final Thought
No manufacturer says that their toaster oven is designed to be built in. It means you can't do this task. Choose an alternative way to hide it. A pantry, under-cabinet space, an appliance garage, and a pull-out drawer would be a great alternative idea.