Every error code on the Samsung oven has a mean, which indicates malfunctioning in specific components. Sometimes we get an error message that we don't know what that means. 
If you got a CF0 error on your Samsung oven, this guide is for you. We've described everything you need to resolve this error code.
A Samsung oven displays a CF0 error code when any component on the Main circuit board is damaged, it could be an open fuse, a burnt capacitor or the entire main board is faulty. Simply replacing the faulty part will resolve this error message from the unit.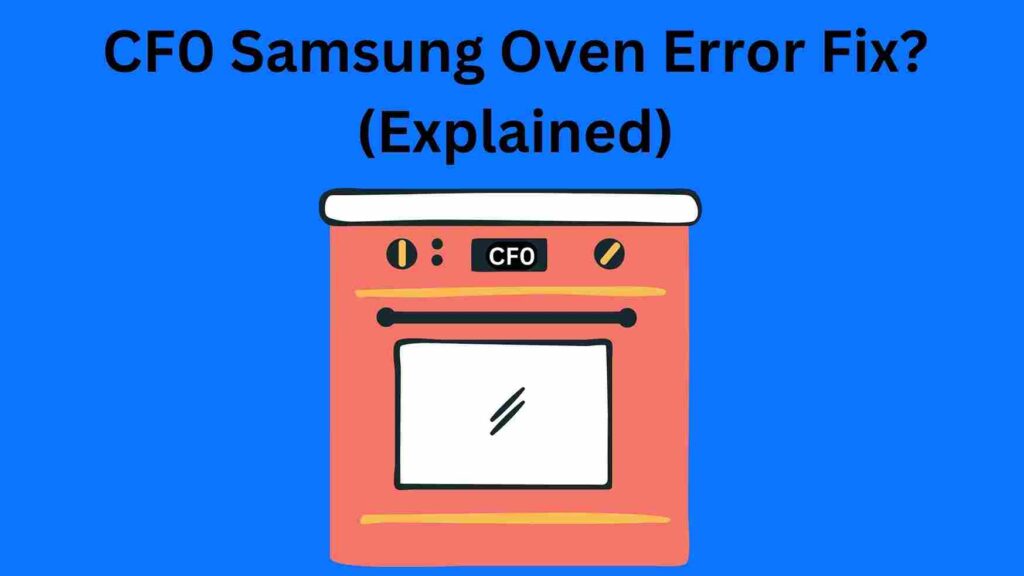 What does C F0 mean on a Samsung Oven?
This is not a secret that you can't use your Samsung oven until the error code gets resolved. Whatever the error code is, you should know about it and its cause.
Technically, C-F0 on the Samsung oven is a main control board communication error. It can be caused by a damaged component on MCB. all its internal electrical elements are interdependent, if anyone gets faulty, it triggers an issue in the working chain of all other elements. As a result, a C-F0 error gets displayed.
You can experience this error code on Samsung double oven and range. However, this is a common error code in F-type serious error messages.
Even with a new Samsung oven or an old one, a C F0 error message can show if the unit deals with an internal main circuit board issue. 
As there are several types of small electrical elements located inside the oven mechanism, you have to manually investigate the root cause.
If you have a Samsung oven that also has a range and it displays a C F0 error code, you need to know that there is not a single main board in the unit. 
There would be more than one MCB, thus, you need to remove the upper cover first to investigate which part is damaged and needs to be replaced.
In our research, we found that some individuals fixed this error code by replacing the circuit board, but unfortunately, they again got the same error message after a few months. But, probably this error code will not come back if you replace the original main board. However, if it comes back, you will have the option to replace the faulty board if it is under warranty.
How to Clean CF0 Error Code on Samsung Oven?
CF0 error code is not a software-related issue in the appliance, this is a sign of damage on the main board. So, resolving this error code and reusing the oven, requires replacing the main board. You can replace yourself by following this section, or take the help of a technician if you're not sure.
You will need a screwdriver and a new main circuit board to proceed further toward fixing. 
The following are steps to Fix the C-F0 Samsung oven error code:
First of all, isolate the oven from the mains. This is important to proceed further.
If the upper side is hidden below the cabinetry, consider placing the oven in an open space. Take a screwdriver and open the screws of the upper panel and remove it from your oven.
Now, take a closer look at the main circuit board. Try to find a damaged part. If any component seems damaged or there is any black mark on the control board, this means you need to remove and replace the faulty main board.
Disconnect all the wiring from the faulty board, and remove it from the oven. Use a screwdriver to disengage the main board from its position. Do it carefully, so nothing can damage it.
Check the model number of your Samsung oven. You can check the product specification given in the manual or look at the back side of your appliance where a sticker contains a spec description. This is an important step because as we need a new main circuit board for replacement, you can only get the same required spare part for your unit when you know which is compatible. You can search the board on Samsung's official site or an appliance spare part store.
Once you have a new main board, it's time to set it in its position. Put it where you have removed the faulty one. Securely screw it on its position. Connect all the wiring back to the new board.
Now, assemble the upper cover back in the oven. Make sure all screws are tightened and nothing is loose which was disengaged during the repair. Plug in the unit, and see if the error is resolved. All done!
Why does CF-0 code recurring after a fix on Samsung Oven?
As we described before, this error can come back after replacing the main board. This happens when the new board also faces issues with its components. 
When your Samsung oven again shows a CF0 error after some months of fixing, you need to look at the internal components.
First of all, you will need to remove the upper cover of the oven to report possible damage. In case the fuse on board is open, replace it if possible. However, chances are higher that the main circuit board would be replaced again.
In case the main circuit board is under warranty, you can contact the seller for replacement. If not, get a new same part for repair.
Practically, this error code is caused only by malfunctioning in the main board components. So if it is recurring again, the solution needs to be repeated.
If you also heard a pop sound when the CF0 error comes on your oven or range, this is a clear sign of an open fuse and damage to any electrical component inside the unit. The permanent solution to this issue is the replacement of faulty elements.
Pop sound in an oven usually comes when any of its electrician components face an electric short due to overheating or unusual voltage flow. 
However, whatever the cause, if there is a hitch in the working of your appliance, you probably need to fix it, so you can utilize it again.