To make consistent cups of coffee every day, you need to know the measurement of the coffee amount you need.
Coffee Maker has a cup wher̥e we brew the coffee. This Coffee machine cup is measured in ounces(oz). Every geographical area has its preference for cup sizes. Americans preferred coffee pot to be 36 oz of brewed coffee in 6 cups.
If you know the perfect measurement of coffee beans for the amount of water, you will make the tasty flavor of cups without any worry. E.g., We measured that if you take 500ml/gm water, you need only 30 grams of coffee beans to make tasty coffee.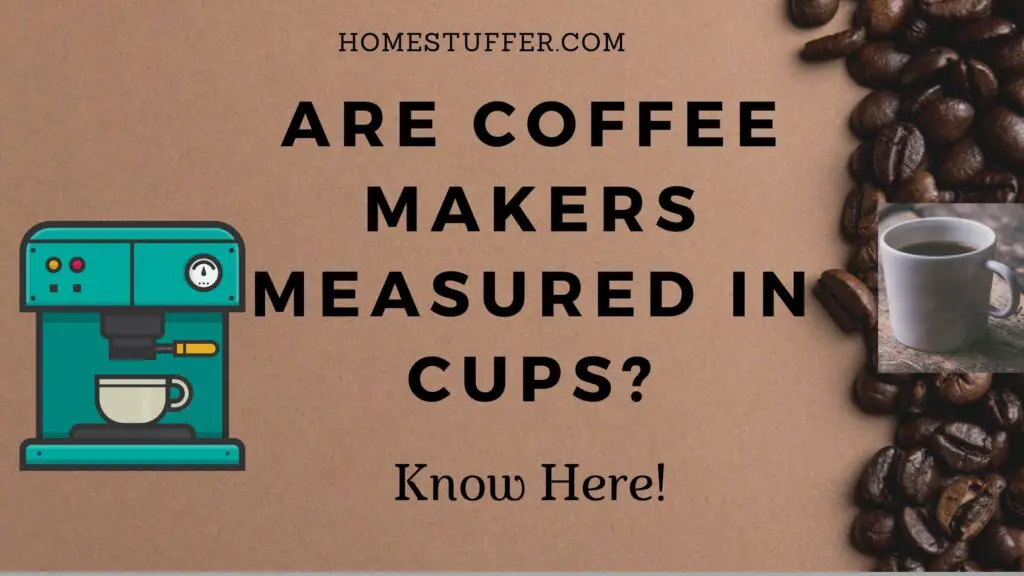 What Is The Measurement Of Coffee Cups?
Every geographical area is different, and their preference is also different. The Canadian people's coffee Cup measurement is equal to 7.6 fluid ounces, the American people's coffee cup is equal to 8.0 ounces, and the Japanese people's coffee cup measurement is equal to 6.7 fluid ounces.
Measuring the coffee to water ratio in perfect amounts provides the best taste to the drink. Before going for a coffee maker, first, you need to know the ideal measurement of the water ration/cup.
Sometimes we need to make 6 cups of coffee or sometimes only 1 cup for us. The perfect easy way to measure ground coffee amount for one cup is by adding one regular spoon of ground coffee to one cup of water.
Adding more coffee to a smaller amount of water leads to a pungent taste. It improves the strength of the cup.
How Many Scoops Of Coffee Per Cup?
Every coffee lover(drinker) has their own taste choice, so if we talk about how many scoops of coffee cup you can add depending on your taste. The average or regular measurement is 1scoop/cup.
If you add the given ration, but it tastes light, then add more coffee grounds to it as a taste choice. The average given is only for one cup. If you have 6 or 12 cups making needs, add one scoop of coffee grounds per cup of coffee.
THE AVERAGE RATIO OF COFFEE GROUNDS/ CUP ARE:
12 cups = 12scoops
6 cups= 6 scoops
1 cup = 1 scoop
How To Make A 1 Cup Of Coffee In A Coffee Maker?
Let's make the perfect cup of coffee for you with the help of a coffee maker. You need to follow some steps which we list below. All the steps are proven and easy to implement. Please don't skip any given step, so you don't end up in the process of making a delicious coffee cup.
Here are simple steps to make 1 Cup of Coffee in a coffee maker
Take 8 ounces of water in the coffee machine mug. Please measure the perfect amount before adding it to the machine mug.
Add coffee beans to the grinder and grind them into ground powder form.
Turn off the hero, add powder from coffee and add one scoop into the filter container.
Now add a filter powder carrier to the machine.
Now turn on the device.
Drip coffee into perfect timing.
Turn off the machine
Take out the mug from the device.
Add coffee to the mug
Enjoy your best 1 cup made from the coffee maker.
How Many Is Cups Of Coffee Too Much?
If you are a teenager or a fit person, you need to know the limit of coffee cups is too much for you. Drinking Over the number of cups causes some problems.
If you are a teenager, consuming 400mg of caffeine is enough for you. You can make 4 cups a day with a 100mg caffeine/cup ratio. So don't drink over the amount of coffee because it contains caffeine. It is not safe If you take caffeine over daily. So don't try to overdrink the coffee.
The ideal amount of cups is 2-3 coffee cups per day. The perfect amount range is enough to become active all day. If you don't want to follow the ideal amount average, you can check your capacity amounts.
Why Is A Cup Of Coffee 4 Oz or 6 Oz?
The perfect measurement of coffee cups of Americans is 8 Oz. If you found some coffee cups with 4 Oz, it means it is the one-half amount of a 1 Perfect cup of coffee. If you found some coffee cups with 6 Oz, it means it is the 3/4 amount of a 1 Perfect cup of American coffee.
4 Oz = ½ Perfect Cup
6 Oz= ¾ Perfect Cup
It is simple to measure the amount of coffee with coffee maker machines. These machines have a hug with a side number which means OZ amount of water. If a machine mug has an 80 OZ number, then it means you can make 10 cups of coffee if you add 80 Oz amounts of water.
The coffee Maker has a cup. This machine cup is measured in ounces(oz). Americans preferred coffee pot to be 36 oz of brewed coffee in 6 cups.