Coffee maker machines are working with Automatic Drip-Brew technologies. The principles of brewing coffee need more heat to boil the coffee. 
Electricity usage of the Coffee Maker machine depends on its model and size. Different devices are available in the market that uses electrical power between 600watts to 1300Watts. Choosing a suitable coffee machine is more important than looking for electricity usage.
Here are more details about all electricity usage Specifications in the following sections.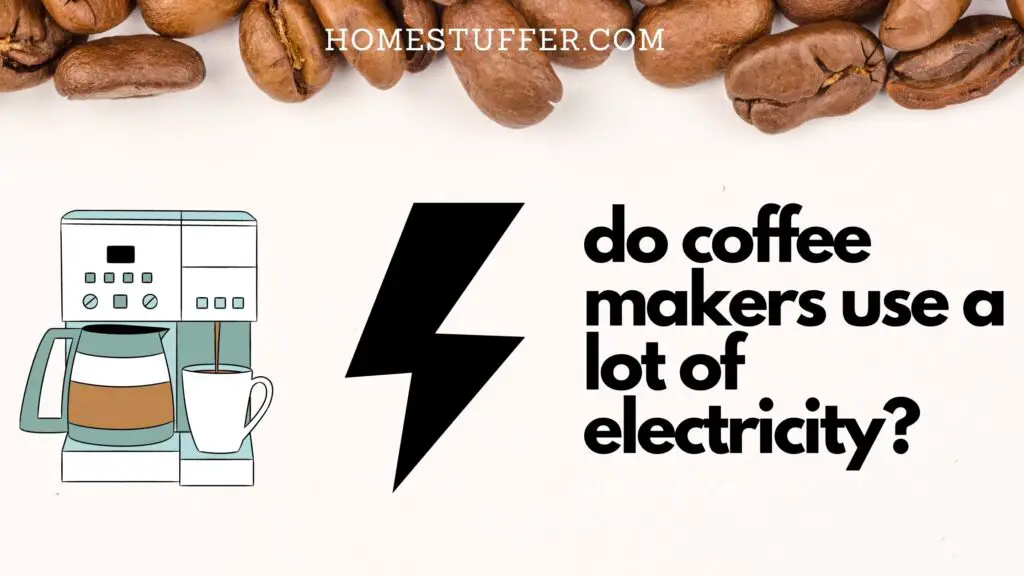 How Much Electricity Usage of Coffee Machine?
If you want to make coffee up to 2 to 4 cups, your coffee maker machine uses 300 to 650 watts of electrical power. On the other hand, if you make 8 to 12 cups of coffee, the coffee machine uses 900 to 1600 watts of electrical power. 
The electrical usage of these machines depends on power consumption per cup or power consumption per minute of use.
Choosing the right coffee maker is the best choice you ever make for your taste and pocket. Here are Factors to choose the best coffee machine depending on the following factors:
Average Coffee Cup Making
Total Members of the family
Model of Coffee Machine
Electrical Power Consumption details on product specification section
Size of machine
How Much Does It Cost To Run a Coffee Maker?
Are you a coffee maker owner and want to know how much you spend every day on your coffee making? Here are Some Calculations to know about the total cost you're paying to make every cup of tasty coffee.
If you use a coffee machine for an average of 18 to 20 minutes, then it costs you between 0.10(Price/kWh). If your number is more and usage is about 38 to 40 minutes/day, it costs you 0.20(price/kWh).
Cost Per Day: 0.10$ (Avarage 20 minute/day)
Cost Per week: 0.70$ (Avarage 20 minute/day)
Cost Per Month: 3.00$ (Avarage 20 minute/day)
Cost Per Year: 36.00$ (Avarage 20 minute/day)
If you use it twice a day and know the exact cost, please multiply the above charge by 2.
Why Are Coffee Makers Using A Lot of Electricity?
Some people are stuck about electricity bills, and they always want to know how much they are paying electricity cost for each product used. If you are also stuck to know about cost/cup brewing, then you need to know about watts of the machine, average time usage of the device, full cup production/day. 
Every coffee maker follows the automatic drip-brew principle. It needs more electricity than other electrical products because it works to make the temperature high in water. It boils water or coffee with electrical heat, and this heat production needs a lot of electricity to make your water burn with heat.
The other fact is that these types of machines limit electrical power consumption per production. If you use your coffeemaker for about 60 minutes every day, it will use more electricity than using it for only an average of 20 minutes a day.
If you are stuck about the high electrical consumption of your coffee machine, then we have the tips to save more electricity while using it in the following passage.
How to Save More Electricity While Using Coffee Maker
Sometimes we have a low budget to survive, and on the other hand, we have bills to pay with our meager budget. People and I also love to save. We are here with some proven methods to save extra electricity while using coffee machines daily. Let's know-how?
First, you need to know the model of your coffeemaker because most companies make high watts usage makers make them with cheap materials. Understanding the brand and specifications of your machine model will make you smarter about your machine. The model of the device will always represent its technology and working method.
Some old model machines are designed with old technologies with high electricity usage methods to boil water into the cup. To know about the model of your device is the no.1 thing you can use to learn how to save more electricity by replacing your old coffee maker( with new high electrical power usage) with a new coffee maker( with further less electrical power usage).
Secondly, you can track the entire coffee cups production/day on any sheet, and it is because it will let you know how many cups you are making per day for you and your partners. This method will help you to save electricity because when you track the no. of cups you make and no. of cups you and your partner are drinking/day, in the end, you will get how many cups you make waste/day. By Stopping useless cups production, you will save electrical energy. It saves your time with electrical costs to run a coffee maker per day.
Third, Don't leave your coffee machine on. Some people forget to shut off the maker, and their maker is also non-automatic shut-off tech then. It results in using more electricity to run and hot boiling water. Please always remember to shut off the button-off machine to save more electricity by knowing little things to do. 
List OF Different Machine Electrical Usage
KEURIG BREWER watts usage: 200 to 400 watts
MR COFFEE MAKER watts usage: 900 to 1200 watts for 9-12 cups
ESPRESSO MACHINE watts use: 1200 watts
SINGLE CUP COFFEE MAKER watts usage: 500 to 900 watts for 4 to 5 cups
CUISINART COFFEE MAKER watts usage: 1100 watts 60Hz average
A SMALL COFFEE MAKER watts usage: 400 watts to 950 watts
Why Is It Bad To Leave The Coffee Maker On?
Leaving the coffee maker on is terrible. When someone goes the coffee maker on, it produces high heat and increases the high risk of burning the pot. Auto shut-off coffee makers are safe to leave on. Don't leave the non-auto shut-off coffee maker on for a long time.
Sometimes we forget to turn off our coffee machines. Don't panic if we have the same situation because you need to know more about different coffee makers' technology models.
If it's a more repeated time when you forget to turn off the machine, we recommend you have an auto shut-off maker for you.
Leaving it on will cause high electricity usage, directly affecting your pocket. So be aware and permanently shut off the switch of your machine when your coffee is ready. Some little things will save you the most time and energy. If you forget to shut it off and leave it for 30 minutes, it will cost you an extra 0.15$ price/Kwh. So be aware of time and resources.
We have a tip for you if you always forget to shut off your coffee machine and leave it on for a long time. Thi tip is following:
Take a piece of paper and write some words on it that alert you to shut off the coffee machine before leaving it after use. Take this page note and place it where you always go after leaving it on. This will help you remember to shut off the machine and save your time, energy, and resources.
CONCLUSION: The high electricity usage of your coffee machine depends on your whole cup production/day and relies on its model and technology. If you don't want to spend extra coffee-making costs, then first read above our methods and proven techniques to save your cost and time.