If you want to use an air fryer, you must be aware of its correct use. It is necessary to know how much temperature you can set minimum and highest in your unit. In fact, not every air fryer has the ability to set equivalent temperatures, it varies on the model number of units and its features. 
However, most Gourmia Air Fryers can set 400℉ temperature. Some air fryers can set the maximum temperature to more than 400℉ range.
232 degrees Celsius is the highest temperature in some models, equal to 449.6 Fahrenheit. People in the United States use temperatures in Fahrenheit, but the unit is showing in Celsius, so you're wrongly assuming it's a lower temperature. Press the Temp and Function buttons at once to change the device from Celsius to Fahrenheit.
This guide describes why Gourmia Air Fryer doesn't go above 232 degrees. Let's dive into the guide.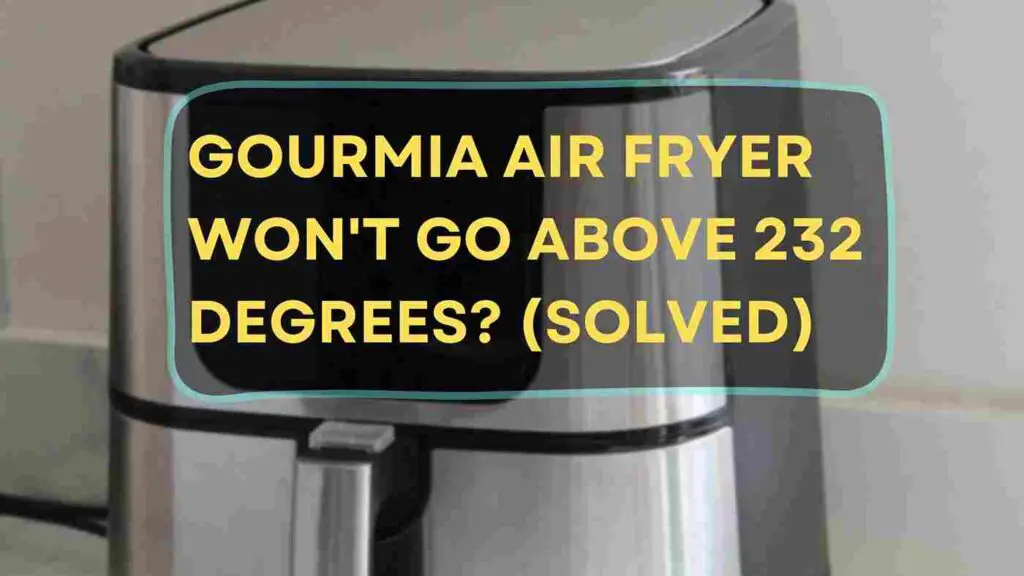 Why Won't Gourmia Air Fryers Go Above 232 Degrees?
Nowadays most air fryer manufacturers add functions that can be easy to use for the majority of people. That's why they set the default air fryer temperature at Celsius. 
However, If you have a Gourmia air fryer, you can shift the temperature between Celsius and Fahrenheit. You just need to know how to change the Gourmia temperature degree form.
Look at the end of 232 degrees, there is written 232℃, not 232℉. This means it is the highest cooking temperature that you can use for air fry and broil cooking programs. 
If you're from the United States, change the temperature from Celsius to Fahrenheit, which the majority of Americans prefer. 
However, you can use it to any degree, you just need to know which is compatible and best for the recipe you want to cook. This is not a secret, that everyone wants better cooking results whatever they cook in their air fryer. 
If the temperature is higher than required, it can burn the food, that's why you need to set the necessary and right temperature range for your food. 
If your unit is reaching 232℃ temperature, it means it is unique from most air fryer models as most models are only capable of setting a maximum temperature of 204.4 degrees Celsius.
Gourmia Air Fryer High and Low Temperature:
Having an air fryer makes cooking work easier and more enjoyable as it cooks without oil, quickly, and with different cooking functions. Moreover, if you have a Gourmia air fryer it contains 12 functions to cook food according to recipe instructions.
However, before using, getting, or selecting a Gourmia air fryer you should know its high and low-temperature range. 
A Gourmia Air Fryer has a minimum temperature of 90℉ and a maximum of 400℉. In addition, some of their manufactured units can reach a maximum temperature of 450℉ which is sufficient to prepare food requiring high temperatures.
When you're new to any model of Gourmia Air Fryer, reading its user manual would be beneficial for you. 
Sometimes, we don't know about each function given on the control panel, and we are required to understand the functionality and setting of each cooking function. Thus, to cook food in a new Gourmia Air Fryer, the user needs to know how to operate that unit.
Is Gourmia Air Fryer In Celsius or Fehrenheit?
 Air fryers like Gorumia allow their user to shift temperature between Fahrenheit and celsius. As a user of this unit, an individual can use this unit at their preferred temperature degree(℃ or ℉). 
There are no fixed rules to choose a specific temp degree, but to use an air fryer, you must know how much heat your dish requires to be prepared and how much heat your appliances make on a specific temp range. 
For example, if the food you want to cook requires 200℃, then you cannot cook it at 200℉. 
Celsius and Fahrenheit have different temperature numbers for equal heat ranges. For instance, if the food requires 120℃, it means cooking the same food in the Fahrenheit temperature range, which will require 248℉ temperature.
Sometimes we have recipes described in celsius, but we are using the air fryer in a Fahrenheit setting. In this situation, we have two options – 1. Change the unit from Fahrenheit to celsius or 2. Convert the temperature from celsius to Fahrenheit. This will be easier to use by shifting the temperature degrees.
To summarize: You can use the Gourmia air fryer in your preferred temperature range, no matter if it is set to celsius or Fahrenheit. In addition, don't forget to check what temperature your dish requires.
How to Change the Temperature on a Gourmia Air Fryer?
This is simple to use a Gourmia Air Fryer as it has a specific cooking function to cook certain types of unique dishes. 
There is a single TEMP button on the panel to set the temperature, but when you press it, the unit displays the default temperature. 
It means you have to adjust it to the required temperature range for your dish and that's why they have added two keys( – and +) near to LCD to adjust the temperature.
Here's How to Change the Gourmia Air Fryer temperature:
Select the cooking function.
Press the TEMP button and now, the default temperature will display according to function.
Now, press the – key to decrease the temperature, and use the + key to increase the temperature.
Each function has its default temperature range. Users have to manually adjust the temperature according to their needs.