Organizing an outdoor kitchen with the right appliances makes it easy to prepare dishes. If you're planning to put a gas stove in an outdoor kitchen, this guide is for you.
The material of gas ranges and stoves is the first quality to look at first since if the body material of the item is not weather resistant, it will rust or damage outside.
Gas stoves are suitable to put in an outdoor kitchen, but the material should be stainless steel, and the manufacturer official mentioned that their product can be placed outside. However, a vent system is required. You must cover the appliance after use to avoid weather effects.
Before placing a gas range or stove outdoors, follow the below-described tips and points to avoid any mistakes.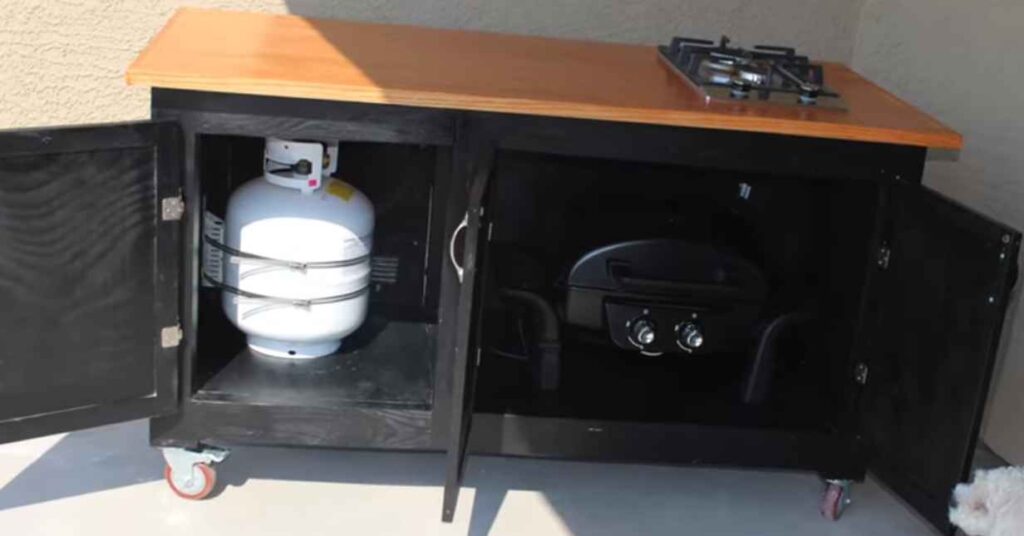 Where Should a Gas Stove Be Placed in an Outdoor Kitchen?
Outdoor kitchens are the choice of many households. People love to enjoy food outside while chilling with their friends and families. If anyone has an outdoor kitchen, they require the correct appliance to prepare dishes. 
Gas ranges and gas stoves are the primary and popular appliances for cooking food indoors, but most people get confused about whether they can put a gas stove in an outdoor kitchen.
As we described earlier, you can do it. But the main thing that comes to mind first when planning to add a gas stove outside is; where should you place it.
A gas stove can be placed on a worktop or inside the shelf of the cabinet. Cut the wood counter space and fix this device inside it. You can hide its fuel source( a gas cylinder and its pipe) inside the cabinet. If the surface is quartz or granite, just place it on the shelf.
If you don't want to do the installation procedure, hire a contractor. Keep the area moisturizer-free to prevent rust occurrence on metal. 
Choose a warm space where a roof must be available for the stove so that, if it rains, you can protect the device from water. 
Always cover the appliance when you stop using it, it makes a device long-lasting.
Things to Consider Before Putting a Gas Stove in an Outdoor Kitchen:
Some items must be in an outdoor kitchen space. Considering necessary things avoids the wrong organization of items and may expand the life of appliances.
Material specifications: Not all materials or metals support moisturizers and weather change, resistance properties make an item outstanding from other materials. 
For instance, iron-made devices usually gain rust in high humidity. Choosing materials like Stainless steel becomes necessary to have a weather resistance item outdoors. 
In simple words, your gas stove must be made of stainless steel for outdoor use.
What manufacturer Recommends: Products mostly come with instructions and warnings. Quality products have details about usage. Before using a gas stove or range in an outdoor kitchen, check if the user recommends outdoor use or not. 
Manufacturers' advice is necessary because they described these instructions and information after testing their product. 
Some items only have 40% to 60% stainless steel and also contain iron-type material. If the gas stove you own has the same details, don't put it outdoors.
Choose the correct place: Let's suppose that you have the right gas stove for the outdoors but you choose the wrong place for it. So what will happen? The answer is "it will minimize the life of the device". Yeh!. 
Always place a gas stove or range under the roof where a vent system must be available. This appliance typically reduces smoke and that smoke can decolor and develop odor in the area where the stove is not getting vented. 
To verify that the stove will not disturb the fresh air in your place, choose a counter space where stove gas gets vented correctly.
Placement: Now you have chosen a place but how can you place it there? Putting a stove on the worktop is a great choice. We have done some DIY projects where we installed a stove under the surface of countertops. 
You can also do this, just make sure you have experience with this technique. 
Moreover, you can hide the gas cylinder under the cabin space. There are two options to place a gas stove in an outdoor kitchen; 1. By adding it under the counter space surface and 2. Just placing it simply on the worktop.
Necessary steps: Keep cleaning appliances as your first priority. Take cleaning checkups once a week. Avoid water or humidity on devices. Moisturizing in the air presence starts damaging parts and creating rust.
Protection: Care from your side is the most important thing for your outdoor kitchen appliances, and that's a primary reason we have advised you to keep device maintenance as your first priority. 
Not only cleaning is important, but you also have to cover the stove after taking advantage. Use a waterproof cover for this task which is easy to use.
Identify the need: Gas stoves are not good as show pieces, you can only use them in your outdoor kitchen when there's a need. If you're not using your outdoor placed gas stove or range, store it in a secure and damp-free area. 
Put a cover over appliances before storing them in any place. If you don't cook outside or just cook one time a month, actually you don't need to place an indoor gas stove outdoors. First, analyze its need then put it in your outdoor kitchen.
Check overall look: Sometimes, we place items in the correct place, but forget to check the combination. Things should be placed by checking the match of design and color combination with counter scape. 
If you don't much care about how a stove looks in your outdoor kitchen space, you don't need to check the overall look.
Why All Types Of Gas Stoves Are Not Best For Outdoor Kitchens?
We can control humidity and temperature inside the kitchen, but it is impossible in the case of an outdoor kitchen. 
Some gas stoves are specially made for indoor use, if they get placed outside, an open environment can cause issues with body material and working.
The wind is a common thing outdoors, if the stove is made of iron, we cannot place it in the wind. Winter days can boost rust development on non-water resistance materials. 
In simple words, follow the instructions in the stove manual and follow the manufacturer's advice to know whether you can put a gas stove or gas range in an outdoor kitchen.
Conclusion
Choose a stainless steel gas store that is allowed for outside use by the manufacturer for your outdoor kitchen. Install it in a moisturized place and keep it clean. Use a waterproof cover to avoid the dampness of being in contact with the surface. 
However, you cannot use it in the snow because its pipe or gas can freeze in too cold.