Outdoor kitchens are the best to add more entertainment to our life, but you have to know which appliance you can use in your outdoor kitchen.
If you want to know if you can put your oven in an outdoor kitchen then this article is going to teach you everything you need to know about putting an oven in an outdoor kitchen.
The collection of the right applications makes it easier to cook effectively and easily. Cooking without an oven is not the choice of many.
Not every oven is suitable for use outdoors, you can only put a pizza oven in an outdoor kitchen. Weather and temperature changes in outdoor kitchens are not the best electric ovens because they can damage the hardware of the oven. Pizza ovens work with gas which means they are fine to put outdoors.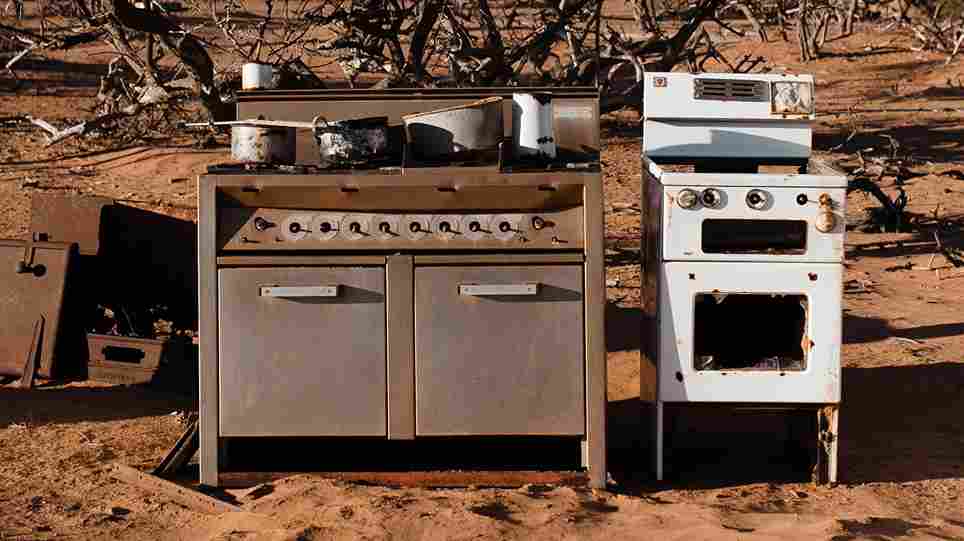 Which Type Of Oven Can Be Put In An Outdoor Kitchen?
Outdoor kitchen DIY projects are collections of appliances, designs, and build materials. We have to recognize which appliance is suitable for the outdoor climate and temperature changes. 
Most times we find people who don't build their outdoor kitchen without planning get more issues after a few months. This happened because they don't know which type of appliances can be put outdoors.
Only the Pizza oven is the best oven to store in an outdoor kitchen, it works on gas and has no electric mechanism. So the damage issue is 0% in pizza ovens than a regular electric oven. Rust and damage in units are two primary reasons we can't put microwave or multi-work ovens in an outdoor area.
Pizza ovens are made of stainless steel or simple iron material with a gas mechanism. There are fewer chances of rust or damage.
Pizza is the best fast food, which is a favorite food of many American people. If you're a foodie person, a pizza oven in your outdoor kitchen may make your outdoor food preparation experience fantastic.
Please consider that don't use an electric pizza oven outdoors, a pizza oven powered by gas, wood, or charcoal is only recommended by experts.
Gas pizza ovens have many advantages, which include the following pro points:
They cover less space: So if you have less space in your outdoor kitchen then you can easily use it.
They are moveable: You can easily move them to any part of the kitchen.
Make fast Pizza: Gas pizza ovens heated up faster than electric models, which helps chiefs to save time and eclectic energy.
Easier to Operate: Beginner chiefs can also operate or use it for the first time.
Better than other pizza ovens: In winters, it is difficult to use a wood pizza oven, gas ovens are easier to operate in winters.
Suitable for all temperatures: Up just needs a gas supply to it, it has no issue with low or high temperatures.
Why All Types Of Ovens Are Not Best For Outdoor Kitchens?
Using kitchen appliances in outdoor areas for a long time causes many issues, not every appliance is suitable for use in an outdoor kitchen. Every product has its oven limits of using like ovens and regulators etc.
Temperature, climate, and issues with low and very high temperatures are the main factors to consider when choosing an oven for outdoor use. 
Most times we don't know what a climate can cause to an appliance, which results in issues in the long term.
It develops moisturizer inside of the electric oven when we store the oven below 32 degrees Fahrenheit. In winter the temperature outside goes below 32-degree Fahrenheit, that's why experts recommend not using all types of ovens for an outdoor kitchen.
Moisture could damage the unit when it is brought into warmer temperatures. Gas ovens don't develop moisturizers and that's the main reason every outdoor kitchen owner must use them.
Most ovens or microwaves work on electric mechanisms, and their material contains most iron-made hardware inside their body. 
Using an electric oven for a long time in an outdoor area may cause damage and rust in the oven mechanism. Experts recommend using only pizza ovens outdoors instead of a regular oven.
Weather Protection is the primary trouble in outdoor kitchens. All outdoor gear requires protection. An outdoor pizza oven is a built-in or freestanding oven powered by gas, wood, or charcoal.
What Causes Damage To The Oven In An Outdoor Kitchen?
Moisturizer, very low temperature, and too hot temperature are the main causes of damage to the oven in an outdoor kitchen.
Very low temperatures(below 32 degrees Fahrenheit) develop moisturizers inside electric ovens which damage the electrical parts of the oven. 
Experts recommend covering every iron appliance in the outdoor kitchen in winters and high temperatures.
Winter is the main season of cool winds, cold wings contain moisturizers. Cold winds also develop rust on iron or steel. 
Most new outdoor kitchen owners are not aware that outdoor kitchens can rust if they are not properly maintained in winter. 
Most people stop using their outdoor kitchens in winter. Winters cover half of a single year, which means they stop using their outdoor oven for half a year. 
Leaving the oven for a long time unused may also be the main reason for rust and damage to the oven. If you're leaving the oven unused for a while it could be tending to rust.
Every outdoor appliance needs care, you have to put effort into protecting your appliance from rust, dust, or damaging issues. 
Every outdoor kitchen owner has to know every single caring method to protect their kitchen from issues. Care and maintenance regularly support appliances to stay new for the long term.
What Appliances Should You Have In Your Outdoor Kitchen?
It is essential to know which type of appliance you should have in your outdoor kitchen. Using the right appliances improves the experience and enjoyment outdoors. There are a variety of kitchen appliance options available to use outdoors.
The following are appliances that every outdoor kitchen Owner can use:
Pizza Oven.
Warming Drawer.
Beverage Center.
Metal Spatulas.
Non-Stick Grill Basket.
Non-Stick Vegetable Basket.
Skewers.
Wood Planks.
Outdoor Ice Maker.
BBQ Grill.
Smoker.
Ice Chest.
Cast Iron Griddle.
Long-Handled Metal Tongs.
Outdoor Refrigerator.
Why Only Pizza Oven Is Best To Put It Outdoors?
Gas pizza ovens don't damage with moisturizer because they don't contain iron electrical units, an oven that contains electronic parts is damaged with moisturizer.
Pizza ovens powered by gas, wood, and charcoal are three main types of pizza ovens that are suitable for outdoor kitchens.
Gas ovens are more advanced and more valuable than wood powdered ovens. Moisturize develops rust and fluctuating issues inside electrical sites.
Nowadays appliance stores have specific category stock of outdoor kitchen ovens. Gas ovens work fine in winter seasons, but wood pizza ovens are difficult to operate in cold weather.
People have more options in today's world. You can easily find a suitable oven for your backyard outdoors.
A pizza oven is a must-have appliance in the kitchen. If you're a pizza lover, it's an opportunity for you to have a gas-powered pizza oven.
Conclusion
Gas pizza ovens are the only suitable type of ovens to have in the outdoor kitchen. Experts recommend not using an electric-powered oven because outdoor moisturizer may cause issues or damage to the electric parts of the oven.
If you want to have an oven in your outdoor kitchen then the gas, wood, and charcoal pizza ovens are the best to have. They are suitable for outdoor climate changes.