Whether you have a small or big kitchen, you must store your toaster oven in a secure and easy-to-access place. As most kitchens have cabinets, counter space, and pantries for storing things, choosing a space in a suitable space can be a great choice.
If you're thinking about using your pantry and don't know, can you put a toaster oven in the pantry? This guide is for you.
A toaster oven can be placed in the pantry as long as it is securely installed and no object is a lot closer to it. Electrical outlets should be there and ventilation should be ensured for the device. Whenever you turn it on, you have to stay there. Always open the door during use and unplug the device after use.
We've gathered all the information in this guide that can help you to make a discussion on whether you can put a toaster oven in the pantry or not.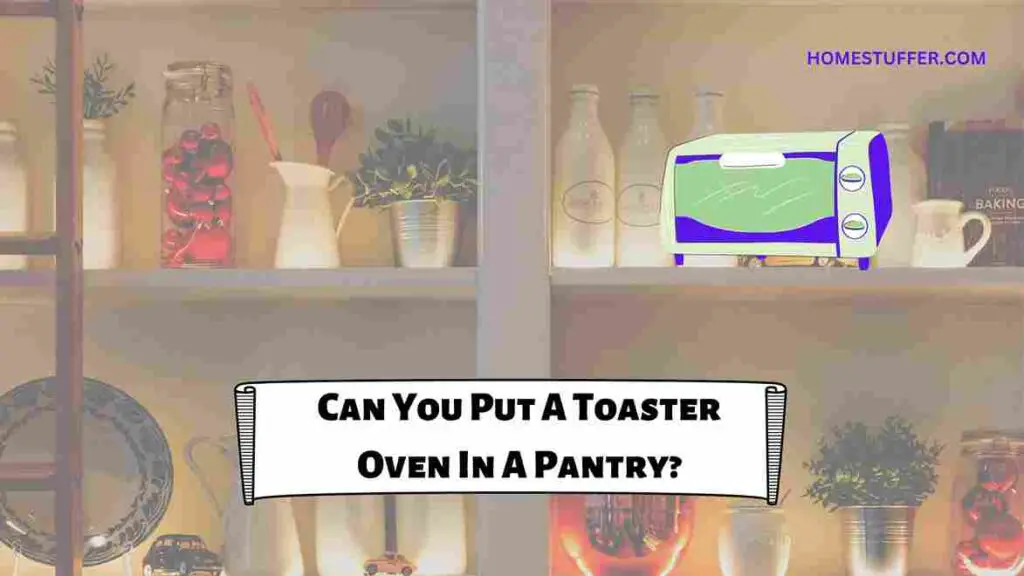 Can You Put a Toaster Oven in a Pantry in a Cabinet?
Many people store their toaster oven in a pantry in cabinets, but they ensure some necessary points. As this is a heating element appliance, it can cause a fire. 
If it is placed in a closed cabinet pantry, it should be unplugged when doors are closed. 
If by chance its cord causes a short circuit, it may cause a fire in the cabinetry. It is a clear fact, the majority of kitchen pantries and cabinets are made of wood, that can catch heat easily. 
A toaster oven is an electrical heat-producing device that requires proper ventilation space for getting in control of heat and warmness. 
Fortunately, this device cannot heat up surroundings but must avoid placing things near it about a few inches. Choose an even and solid shelf to place it on it. 
Most pantry cabinets have counter space and open shelves, these locations might be good for providing proper ventilation and cool surroundings to the toaster oven. 
Be sure there is no direct sunlight on pantry cabinets as direct sunlight is not good for device elements. 
If you just want to put the toaster oven in the pantry only for storing it, and not for using it there, don't plug it in, store it there and unplug it. 
If you want to use it while placing it in the pantry, don't close the doors of the cabin when the toaster oven is ON and toasting something. The ideal choice is to keep pantry lights ON when this device is running. 
Space should be enough to store and make sure there is a gap between the device and the cabin division board. 
Take a 3 to 5 inches gap between the toaster oven and left/right wood boards. These wiped boards are divided between two cabinet-divided rooms.
Where to Place a Toaster Oven in a Kitchen?
Having an ideal location for a toaster oven is necessary for using it without worrying about possible faults. Advantageously, we all have many choices to select a place for it in our kitchens. 
As it's an electronic application, we have to look for some qualities in the selected place, such as the place should have enough space for storing and ventilation, the base should be even, and has power outlets, and the more important location should be easy to access for the user.
The ideal places to keep a toaster oven in a kitchen are the countertop, cabinet, open cabinets, strong wall shelf, and counter space. 
However, you can also store it in the pantry, but pantry doors should be open when the device is running.
Don't place it on an uneven base, choose a vacant countertop where there's not any object placed and the toaster oven will have empty surroundings inches.
Let's discuss the ideal location for placing a toaster oven:
Counter Space: Basically, quartz or granite countertops provide decent space for placing things. Moreover, if you don't have counter space on countertops, you can have a table or stand to create an additional counter space in your kitchen. 
Just consider placing the device in the center of the stand or table so it cannot fall from there.
Open Cabinet: Many modular kitchen designs have open cabinets attached to walls where you can store sized applicants. The best thing about no-door cabinets is they can help to keep an eye on your toaster oven while doing other activities in the kitchen. 
Don't choose an open cabinet with a small space as it can be hard for ventilation and secure installation of an oven toaster.
Drawer: Pull-out drawers are best for easily storing things and accessing them within seconds. If you have a pull-out drawer in your kitchen on the wall or in the cabinet, it would be ideal for your appliance. 
But here you have to consider some important points such as the shape and structure of the drawer. 
If the pull-out drawer has a door that hides a placed item into it, don't place the toaster oven there because it will be hard for you to look at the device when it is running and the doors are closed.
Under Cabinet: we have many items placed under cabinet space, so you have to be sure nothing is kept too close to the toaster oven. If the under-cabinet space is full of items, consider choosing another space.
Wall Shelf: About 90% of owners of modular kitchens have shelves on the walls. On average toaster ovens have 25 pounds weight, which means the shelf should be able to handle that much load and have strong material. 
Pantry: it is a space where we keep handy and small-sized items. Fortunately, pantry space can store a toaster oven as well. 
The pantry has lights so you can look at the appliances when it is running. Keeping an eye on this appliance is necessary when it's running in a closed space because the user must check, the heating elements will not cause a fire inside the space. 
Worktop: It is another name for your kitchen countertops. As we know, countertops have enough space to place things and prepare food. 
If you already have some appliances there, it will be easy for you to do the toaster oven installation on the countertop. 
How Much Space Do You Need Around a Toaster Oven?
You can provide as much as you like to keep space around a toaster oven but should be not less than 5 inches over the top and 3 inches at the rear. 
If all the sides around the device are empty, it provides a facility for proper ventilation. 
Don't place any objects around the left and right sides. Moreover, it also decreases the possibility of fire.
We have reported, many people like to store the toaster oven as gas ranges are fixed in cabinets, but the fact is that it's not possible and secure for this device. 
If it is placed or fixed between two cabinets without lifting space around it, it might cause heat to connect wood and there will always be a chance of fire hazards.
If the space is empty in feet, it is as good as it should be. Whatever room it would be, must provide space around the toaster oven, whether it's a pantry or pull-out drawer.
Conclusion
Open pantry space is suitable for placing a toaster oven. You must have an electric outlet there and appliances should be installed correctly. Always keep an eye on the device when it is running so you can prevent possible faults and risks. Don't keep the object a lot closer to the device since it can use heating to around 3 to 5 inches.