A person who has a keen interest in grilling and cooking wants to have a Traeger in their outdoor kitchen. If you are thinking of putting a Trager outdoors then this guide is for you.
Yes, You can put a Traeger in an outdoor kitchen. A proper design makes it easy to use Traeger for grilling and preparing food in the outdoor areas. However, A Person also needs proper knowledge to operate in an open space. Make sure there is no heat-catching material near the Traeger.
It requires proper guidance to use specific appliances outdoors. As we discussed everything related to putting a Traeger in an outdoor kitchen in this guide, we also described helpful tips. Let's dive into the guide!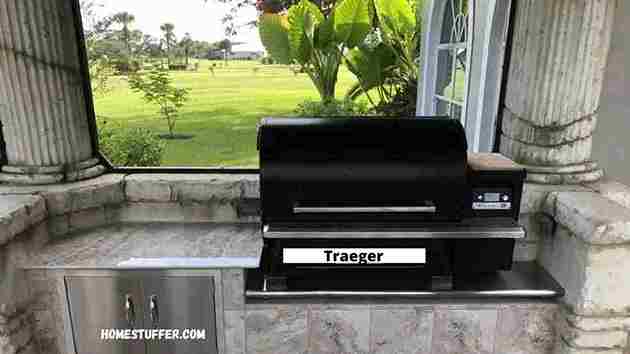 Is Traeger Good For The Outdoor?
If you're a passionate chef and have a keen interest in building new places to prepare delicious meals, you may like to add a Traeger to your outdoor kitchen.
It's a good idea to add a Traeger in your outdoor kitchen, it gives you a new opportunity to learn and prepare new dishes. You may learn a lot about grilling and cooking when you add worthy appliances outdoors and indoors.
It has many advantages, including grilling where you want, and grilling what you want. Most Traeger comes with moveable abilities. You can change the location to operate it, which means you can use it where you want, but make sure there is a fuel source available for it.
Experts recommend storing it indoors after using it because unfortunately, it is unprotected outdoors. The chances of damage inside hardware are high when we live it for while outdoors.
We often see many outdoor kitchen owners have proper space to put Traeger in, Most islands and countertops designs contain Traeger in them. 
Most of the time we see people have sensitive material made roofs in outdoor kitchens which may be affected by the smoke of Traeger. If your roof is made in that way, you need to set a proper place to put in Traeger in any corner where it will not give a bad effect on the roof. 
How To Install Traeger In An Outdoor Kitchen?
You asked this question because maybe you want to install a Traeger in your outdoor kitchen. This section is going to help you to set up Traeger correctly and exemplary, so read it till the end.
You need a proper protective space to install it. A good worktop on the island or worktop with an island is a good place to put on it. It covers at least 3 to 4 feet's area on the countertop, if there is less space available on the worktop and you aren't able to install it on it then try to make new space to install it.
Make sure the roof is at a quiet distance from the Traeger, so its smoke will not spoil the beauty of the roof. As we know they produce smoke during grilling, we need to choose an area where it will not disturb the other parts of the outdoor kitchen.
If you become confused while selecting the perfect space to install it, search for new outdoor kitchens with a Traeger and copy any of those designs that you feel are suitable for your outdoors. 
Can We Put A Traeger On Outdoor Kitchen Island?
A Traeger is suitable to put on an outdoor kitchen island, make sure it will not disturb other appliances on the island. If the island has less space, you have to create some space for it. It works well on corners of the island worktop.
It will hurt the design, look, and experience of the island when we put it in the island center. Nobody wants to be disturbed while preparing meals on the island.
Experts prefer to use a built-in Traeger BBQ on the outdoor kitchen island. It becomes easy to grill and prepares food when we use a built-in Traeger outdoors. 
You will experience the taste of luxury when you use it in your outdoor kitchen. However, If you want to experience the use of Traeger outdoors before investing in it, you can take a trail at your relatives' or friends' homes where you saw it.
The outdoor kitchen Island looks very pretty when we use a Traeger smoker on it. Its use makes the look of your outdoor kitchen expensive which also adds value to your home.
When you realize your island is very small, you need to approach a home improvement expert because they will help to equip a suitable idea to use a Traeger on an outdoor kitchen island.
Can A Traeger Grill Be Stored Outdoor?
The material of the Traeger grill will not ruin or damage by outdoor climate changes. Make sure you store it protectively. However, rain or snow is not able to ruin it. 
We often see that few people don't know how they can store their Traeger grill outside, which decreases the life of their Traeger grill. It is fine to store it outdoors till the space condition is perfect.
As we know these grills work on electricity, and their electrical parts need special care. Traeger grills are not waterproof which means if you don't cover them then water may damage or spoil them.
If water is entering inside the grill, it will develop unnecessary conditions like rust on iron hardware parts. 
Rust is proven to spoil any electronic parts which means you have to protect your grill hardware from water and too much moisturizer.
Make sure you must take precautions to ensure the grill remains dry all the time. If it is in a moisturizer or rainy area then cover it with a waterproof object. You can use a polythene-type cover to prevent water from entering inside.
Is It Ok To Leave A Traeger Outside?
Yes, It's fine to leave a Treager outside, but make sure it is stored protectively. It needs a protective cover that will protect its parts from moisture and water. 
Most moveable Treagers have electronic parts inside, high moisturizers may develop rust and may damage those electronic parts.
The way you leave or store it outside matters most, your storing manner needs to be perfect. Make sure there are no chances to develop rust or wear inside its hardware. If the climate is not suitable for its material then it may damage or spoil it.
The outdoor space has to be suitable to store it. If you think the space is not good to store it, don't leave it in that space.
Final Thoughts
A Traeger works fine in an outdoor kitchen only till when the area condition is okay where we placed it. If it contains electronic parts then cover it with a waterproof cover. 
Moisturizer, water develops rust and wear inside it which spoils its working. The owner has to take special precautions to protect it from spoiling, care from the owner is responsible for its durability, working, and look. Take care of Traeger when you use it outdoors.