Nowadays, Everything is changing and updating day by day, which gives birth to new trends, showoffs, new trends, and upcoming kitchen designs.
White kitchens are the choice of many, but as years change, this choice also changes with time. There is no doubt that some house owners also have white kitchens in the current trend, but their percentage is meager.
Let's Discuss all White kitchens trends!
Here's Why do White Kitchens Are On the Way Out:
Generations and fashion trends are changing, and most people feel tired of maintaining a white kitchen. Nowadays, most people don't like all-white kitchens as these kitchens need more effort to clean or maintain them. The white color surface gets quickly dusted. That's the main reason the white kitchen trend is on the way out.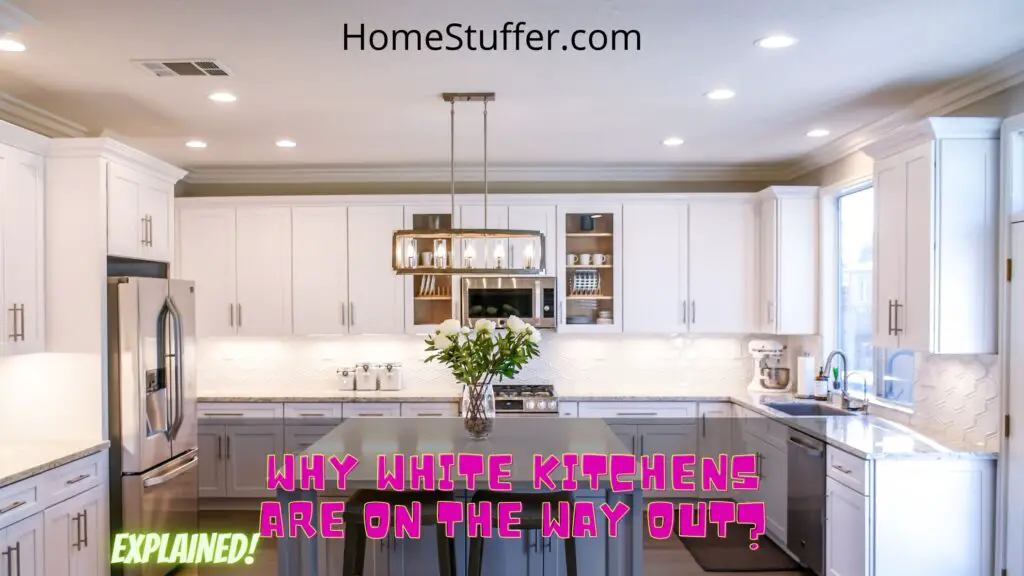 Are All-White Kitchens Going Out Of Style?
Trends go forward to the next level, and the interior designs also go to new hope. Not all white kitchens are going out of style, but the percentage of white kitchens is going down as years go by. The new generation feels why they waste their time cleaning white color surfaces. We all know white color is the best color we use in the backgrounds of photos also, like this when the dust comes on white-colored kitchen things, the dust shows more as compared to other colors of cabinets, worktops, etc.
Suppose a house owner has a pet and uses every corner of the house to walk and play. In that case, chances are high, like pets' hair may fall on white cabinets, floor tiles, etc. When a particle falls on the white tiles, it shows very quickly, and then we need to make an effort to clean kitchen white tiles immediately. That's why the white kitchen is going out of style.
Maybe you think that white kitchens will go out of style in 2022. If Someone wants to construct a new all-white kitchen, they can build it, it's not about style, but it's about maintaining and cleaning needs more effort while having a white kitchen design.
Experts recommend that combining your kitchen color with your home color is a great choice, and it will make you and your house interior more satisfied and happy. There is no restriction to use all-white kitchens.
What Color Should the Kitchen Be?
Your kitchen is the central part of your home, if you like to work in your current kitchen design and color, then it's a great thing to hear from you, but if you're planning to change the look of your kitchen by changing its color and appliance, you need to know some facts which may help you to make satisfy with your upcoming kitchen color and things.
As we know, There are two main reasons why you think about what color the kitchen should be: maybe you're planning to build a new kitchen, or maybe you're not happy with your current kitchen color. But the answer to this question is the same in both cases:
A Kitchen Color should be that color which you like most.
Your favorite color kitchen will make you more satisfied while working in the kitchen.
Most people avoid white and cream colors in kitchen designs.
These colors need more cleaning efforts.
In short, your choice matters most. But always remember to match the combination of your kitchen color with home interior color. It is not about trending designs to choose from – it is about your happiness. 
Do White Kitchens Look Cheap?
Before asking this question, ask yourself whether you think the white kitchens look cheap or not? If you think that, then this is not the case. Did you know that most 5star hotels and royal villas have White kitchens? The white-colored kitchen does not look cheap, and it's a myth with no evidence.
White Kitchens also look tremendous and royal; if white kitchen appliances are not clean well, they may look perfect; these color surfaces need more cleaning efforts than other colors. If you think of having this type of kitchen, you can go for it. If you are a busy person and have no time to pay frequent efforts to clean white objects, it may not be suitable for you.
Most white color cabinets in kitchens change their color in white yellow after using them for many years. Using high-quality white appliances in the kitchen also provides an expensive look, which directly grows the home's valuation. As we discuss, the generation is changing, with more interior designers, which means they are working on inventing more designs that directly affect kitchen design trends.
Is White Kitchen A Great Choice?
Many factors play many roles in choosing a white kitchen for a house, and if you like white color most, it does not mean that you will go for a white kitchen. After knowing all these factors and cases, we think you will make the right decision.
#Case 1: If you're a housewife and you're ready to put effort into cleaning white worktops, cabinets, floor tiles, etc., things in the kitchen, then you can go for a white kitchen. Dust is another factor that encourages people to don't choose white-colored things.
#Case 2: If you're a Home flipper, then read market trends, trends like – Should help buyers like a White kitchen in the house, Should you have the ability to sell that home with an All-white kitchen by convincing a client who is not willing to like a white kitchen home. If the answer is Yes, White Kitchen is a great choice.
#Case 3: If you're a busy person who has no time to clean the kitchen, then the white kitchen is not an excellent choice for you. If a busy person wants to build a white kitchen, hiring a servant to clean the home is another option.
It's All about your satisfaction with your kitchen. Always go for which color you want to give your kitchen, don't listen to trends because trends will change every year, But we cannot change our kitchen color every time.
Final Thought!
White kitchens will not go out of trend. It's your choice which color kitchen makes you satisfied in your home. White objects need more care, like cleaning and maintaining them. That's why the new generation is not willing to pay an effort to clean and maintain the white kitchen. If you want a white kitchen, you can freely go with your choice.
We hope our article makes you satisfied, and we like to hear from you.