Breville has a variety of smart conventional toaster ovens with many functions. As foodies and chefs, people often have questions regarding grilling, baking, toasting, slow cooking, etc. If you're using this appliance and thinking, can you grill in a Breville toaster oven? This guide is for you.
Having a smart toaster oven makes meal preparation easy, which most people look for. When you know what functionality and ability a device has, it helps you to choose the right match.
Breville smart toaster oven offers 10 different functions on its display, including grill, roast, toast, bake, crumpet, pizza, cookies, warm, reheat, and slow cook. It means you can choose the grill function on the display, to use this feature. It comes with a 23cm x 28.5 cm grilling rack.
We've described all the information that you need to know regarding the grill in Breville's toaster ovens. Let's dive in.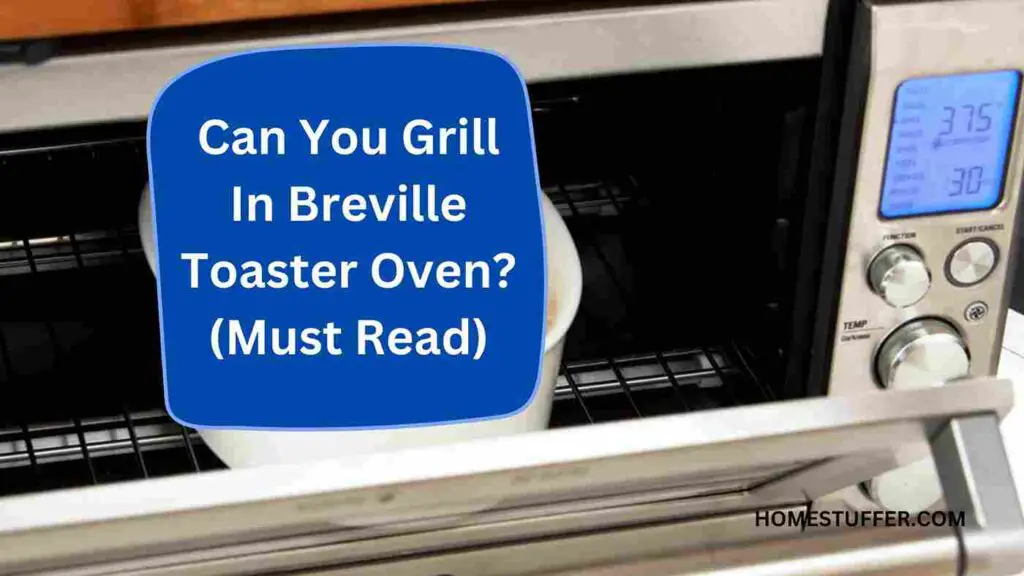 Does the Breville Smart Oven Grill?
The Breville brand manufactures a variety of great quality ovens, including simple and smart ovens. You will find every function in a smart oven that you need to save your cooking time. 
If you want to grill some food in the Breville smart oven but you have never done it before, you should know about its smart functionality.
Yes, you can grill your food in the Breville smart oven.  Their BOV800XL Smart oven model is famous for grilling and other cooking functions as their customers say. It has a 23cm x 28.5 cm grilling rack, which provides you enough space to prepare delicious grill recipes. 
These smart ovens are high power consumption, as BOV800XL uses a high power of 1800 watts. However, you will not find this function in some of their smart ovens. 
Be sure to check LCD present functions, and see if you have chosen a Breville smart oven that can grill or not. 
If you want to purchase this appliance online, check for product DNA which the company itself shows that their device can do.
Smart ovens of this brand with an element IQ system have a grill option on the first number in the function list that you can see on its LCD. 
Just put your food inside it, and choose the grill function on the smart display. Wait until the food is not properly grilled. 
Grilled cheese in a Breville smart oven is the favorite dish of many of their customers as comments below their sales page indicate.
The grill function increases the temperature inside the oven and makes the device super hot from the inside. Its smart IQ element technology has a conventional fan to cool down the device after grilling something.
How to Grill in a Breville Toaster Oven?
Sometimes it makes us a bit confused to use some functions when we are new to a smart device. 
As every brand makes its device unique from previous modes, they also change manual instructions. Because sometimes companies change the location and input functionality of knobs that we operate on older ovens. 
Now, you know that you can grill in Breville's toaster oven. It's time to learn how!
Here's how to grill in a Breville toaster oven:
Prepare the food for grilling.
Take out the grilling rack from the oven.
Put your food on the grilling rack that you want to grill.
Insert the rack and adjust its position to the food size.
Choose the grill option on the LCD by operating the function dial.
Set the temperature with the help of the Temp Knob.
Set the time of grilling by setting the time dial.
Let the device prepare the dish till the grill time gets completed.
Open the door and take out the dish then serve and enjoy it. 
What Can You Cook in a Breville Smart Toaster Oven?
You can almost prepare every type of recipe in a Breville smart toaster oven, but it has some limitations too. Before preparing any type of dish in this oven, you must check if the device has smart functionality or not. 
However, you can't find this smart functionality in every model.
If the model has only 9 different features, it means it has no Grilling option. But if the model offers 10 functions, there will be a grill function included at the top of the list.
You can cook any dish that can be prepared with Toast, Bake, Roast, Bagel, Grill, Reheat, Pizza, Cookies, Warm and Slow Cook functions. 
This device has a 22-liter capacity, which means you can cook anything which has a size under 22-liter dimensions. If you want to brown the tops of casseroles and gratins, you can use the Grill function.
The taste you will get from the food prepared in a Breville toaster oven would be delicious and unforgettable. 
You can cook the pizza to cookies in this smart device with the power of advanced IQ element technology. The best thing is that this oven preheats super fast with the use of 1800 wattage high power.
Breville Toaster Oven Grill Function Overview:
Every function on Breville ovens has an overview that represents the user's how to operate the device on each function. 
With the use of this function, you can prepare open-faced sandwiches, small meat cuts, poultry, sausages, vegetables, etc.
| | |
| --- | --- |
| FUNCTION | GRILL |
| RACK POSITION | Top |
| OPTIONAL SETTINGS | TEMPERATURE CONVERSION |
| PRESETS | HI 10 MINS |
| PREHEAT | No |
| RANGE: | HI, MED, LO Up to 20 MINS |
Final Thoughts!
You have access to the grill function on the Breville smart toaster oven. Their device comes with two pans for baking and non-stick food preparation and one special rack for grilling the food. 
However, you must check the model and its user manual to confirm whether the model you want to use for grilling is offering the grill function or not.