If you're looking for a paint layer stripper or a paint remover then Citristrip might be your priority. However, most individuals get confused to choose the remover form between Critistrip paste and gel.
Citristrip paste and gel are two different products, but their working purpose is the same. In this guide, we discussed all the differences between Citristrip paste and gel, which would help you to understand both forms' qualities.
A DIY project worker knows the value of the finish on an object which provides them with outstanding results.
Here are some exciting things to know about Citristrip Gel, how it is similar to Citristrp Paste, and how they are different!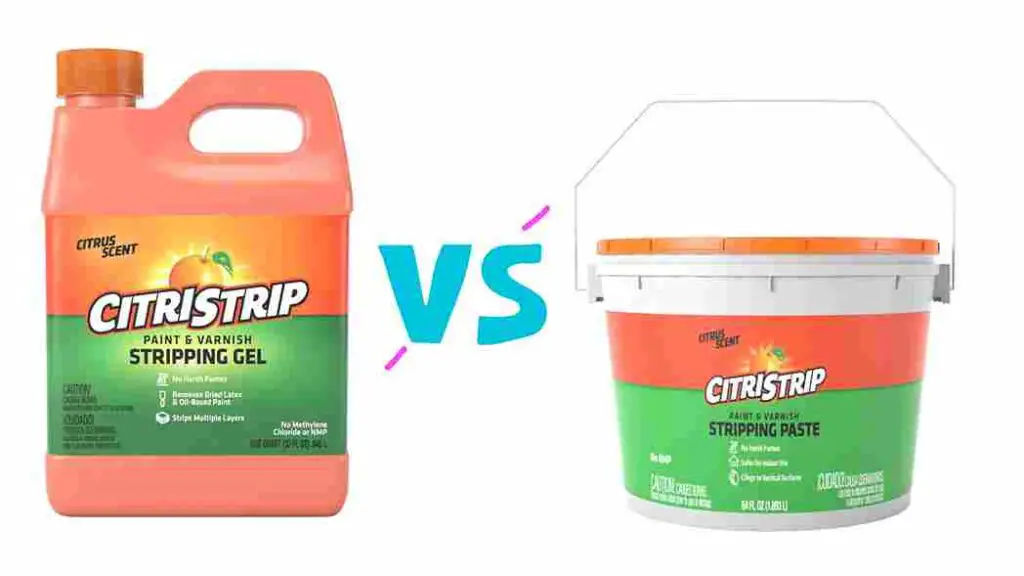 What Is Citristrip Paste?
A Citristrip paste can be used to remove layers of oil-based paint, lacquer, polyurethane, dried latex, and shellac from metal, wood, and masonry surfaces. It is a varnish-stripping paste that has a fresh citrus scent. 
This paste is used by DIVers to remove new and very old painted metal and wooden objects. It is a great solution to get a fantastic finish on very old things as it is a leading remover brand.
Easy-to-use and easy-to-remove properties make it familiar to new users also, you can easily use it whether you tried it before or not. Just apply a large amount to the object paint layer and leave the object for at least 18 hours to remove the paint.
Practical Tips: Trial in an unobtrusive site before use on any synthetic texture as strippers can harm these surfaces. Don't place it near children's reach. It comes in a bucket-type container.
What Is Citristrip Gel?
A Citristrip gel is a type of gel to remove approx 5 layers of paint on a single surface or object. It Comes in a bottle-shaped container and has an orange color solution. 
You can use it to remove layers of oil-based paint, dried latex, lacquer, polyurethane, and shellac from wood, metal, and masonry surfaces. It is a varnish-stripping paste that has a fresh citrus scent. 
The best point about this gel is that you can remove five layers of dried latex paint in under one hour. Using it is a simple task. Merely apply it on the surface and then remove it after 18 hours.
Citristrip Paste Vs. Gel Price Difference:
When it comes to choosing a product between two different forms, price is also a notable point. Sometimes same-priced things have different qualities and sometimes different-priced things have the same grade. However, it is easy to choose a product between two or many products when you know the actual price difference and also want to do the process under budget.
A Cristrip paste costs $26.97/64 Oz pack. Whereas, a Cristrip gel costs $30.70/32 Oz packing. current prices have huge difference if we look at quantity get get from paste and gel packing. But you should keep in mind that both have different forms of materials that do not deliver equal quality.
Which Is Better Between Citristrip Paste Vs. Gel?
No company can say bad or negative things about its products. As we are users of them, we are responsible to check the quality and worth of the product. So the only and the best way to check the quality of the product is determined by reading actual users' reviews about that product.
In our research, a Few customers of Cristrip found Cristrip paste more effective than Cristrip gel. Paste form paint stripper provides a great finish after completing the process. 
Gel also works fine but paste is way better than the gel in customers' experience. People with old houses mostly prefer paste. Most recommend it since they had not much success with Citristrip gel and when they tried to paste it out it is way more effective. 
Using it very easily just Apply a thick layer and cover it with saran wrap to keep it moist and leave it overnight. It must be kept wet or it stops working. If you are planning to strip 60 – 90 years of paint layers, it will work fine.
Methods Of Using Of Gel And Paste:
There is one method of use for both types of paint stripper: gel and paste form.
Following are steps to use Citristrip paste and gel:
Ensure your Protection, wear chemical-resistant gloves and chemical splash glasses for your eyes. 
Apply a thick coat of gel or paste with the help of a paintbrush, trowel, or plastic stripping tool. (Paintbrush is best for both)
After 30 minutes (up to 24 hours), scrape a small test area. 
Gently scrape in the direction of the wood grain with a plastic stripping tool. For stubborn areas, use an abrasive stripping pad dipped into CITRISTRIP® Paste.
Use a paint stripper wash to loosen the remaining residue 
In the end, mineral spirits prepare the surface for painting. The surface should be completely clean and dry before refinishing.