If you have a Breville toaster oven, you may have heard about some codes that you may get on the device display. In case you already have an error on your device and you think what E01 means on a Breville toaster oven, this guide is for you. 
We have seen many individuals who are unaware of these error codes and don't know the actual indication behind the message on the LCD.
Technically, an E01 error represents there is a thermistor open circuit in the device which is a fault and prevents elements from working. Breville toaster ovens rarely show this error, but once you get the code on display, immediately unplug the device, and contact the company's customer support.
Some people reported that this error starts to display on their appliances when they overuse the old device. Old thermistors usually have weakened springs and once the applicants have internal issues, this error code might be caused.
Let's know how you can fix the E01 error code on the Breville toaster oven.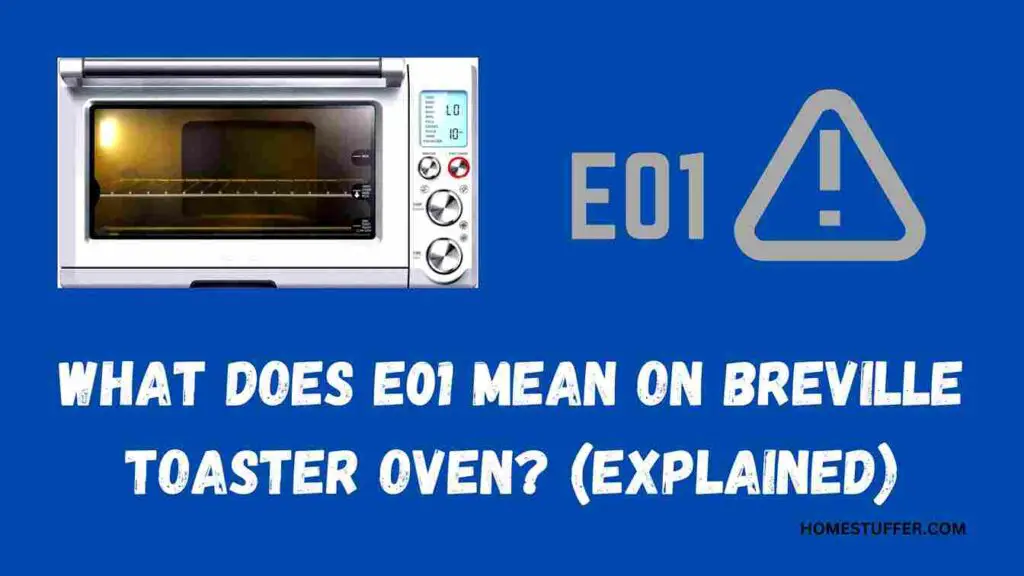 Why E01 Error Displays On a Breville Toaster Oven?
Several users and reviews about the Breville ovens say that some Breville ovens have a common problem of errors, that's why they think twice before selecting an oven from Breville. 
If you ask the company why there is E01 on the Breville oven, they have mentioned in their manual that it's a non-resettable issue that can be only fixed by their repair facility. 
It means they don't reveal the actual fault that the appliance is showing. We have some electricians who claim that this error may be caused by the thermistor's open circuit. 
A thermistor open circuit is a technical name for thermistor failure, this failure happens when there is a mechanical separation between lead material and resistor element. 
Once this failure happens, you will see improper heating, and thermal mismatch, or sometimes your device will not work at all. Sometimes the repair of these errors costs you the same as a new oven price. 
In case your appliance is under warranty, you should quickly contact the company's described support contact. 
You may get this error temporarily, it is great to wait for a day before contacting customer support. A day's wait is compulsory to see if the fault is temporary or if it is showing continuously.
How to Fix E01 Error On a Breville Toaster Oven?
Fixing the E01 error is possible, but you can only fix it if you are an electrician or have experience in fixing Breville oven errors. 
The first step you take is that you must unplug the device as soon as possible when the oven starts showing the error. 
It is important to do because as the manufacturer described it may be an internal fault, the problem may increase if power is available to the device while having an internal fault.
If the error displays continuously for many days and your oven won't work, reach out to the company for fixing service.
Several Breville Toaster Oven Error Codes:
The Breville toaster oven can show several different error codes. Each error has a meaning that indicates to the user about the issue within their oven. 
Some people already reported these errors with under-warranty ovens that they have used fewer times. 
Furthermore, some third-party electricians have created ways to fix each error aside from brand repair services. 
If you have a Breville oven and you don't have bad luck with having errors on the display, you should also understand those errors to be aware of these usual error codes.
Here Are some typical errors on Breville's ovens:
The LCD screen displays E01: Thermistor open circuit
The LCD screen displays E02: Thermistor short circuit
The LCD screen displays E03: When the oven temperature is above the set maximum limit
The LCD screen displays E04: When the room temperature is below the set minimum
The LCD screen displays E05: Triac Failed
Conclusion
You must contact company support when the oven won't work properly and still has an error after fixing the thermistor open circuit. Claim warranty if the appliance is in it. You may also get an E01 error in the new oven and may have to replace the device too.