It might inspire you to have a kitchen garden when you know the benefits of a kitchen garden in your house. Growing fruits, vegetables, herbs in your garden provides you with a satisfying feeling. It makes you a farmer and king of your field in your house.
In this article, we described the importance and benefits of a kitchen garden, and it provides you with a regular supply of fresh vegetables, herbs, and fruits. The kitchen garden is an inexpensive and beneficial way to fulfill your cooking needs.
Let's discuss the advantages of a kitchen garden!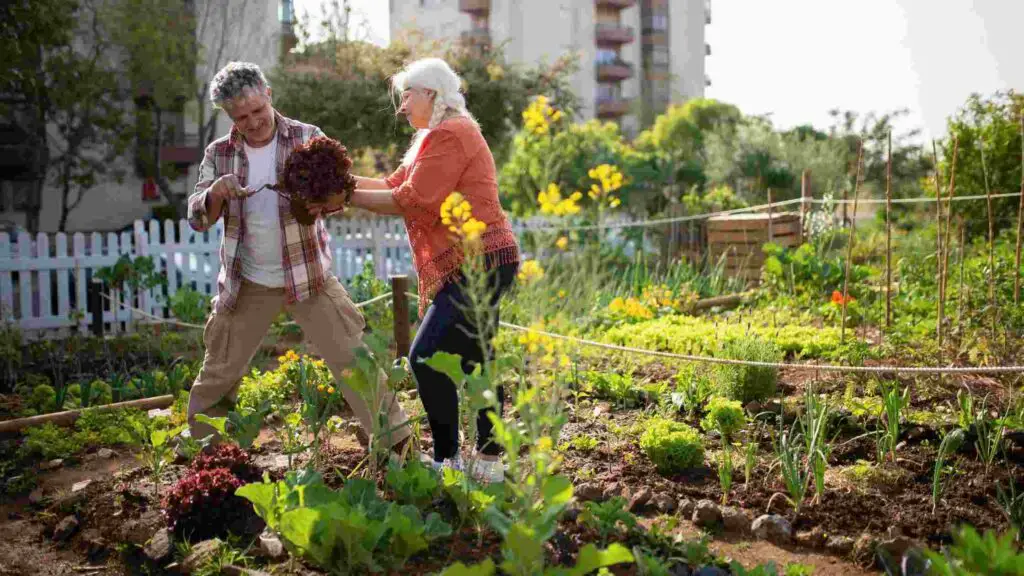 All the below described advantages and importance are very simple to implement and learn. So read this guide from start to end.
You Can Farm What you Want:
Every person has their taste and flavor of eating different vegetables, fruits, and herbs. Let's suppose a person likes a type of X vegetable, but that X vegetable is available for a high price in the market, and the person cannot buy that X vegetable because of the high price rate. It solves that person's problem if they grow X vegetable in its kitchen garden. 
On the other hand, if your nearest stores do not have your favorite vegetable, fruits, or herbs, you can farm what type of vegetable, fruits, or herbs you want.
You Know Your Vegetables, Fruits, and Herbs Are Organic:
Who knows whether market food products are organically farmed or not. In our research, we found many farms are supplying vegetables, fruits, and herbs by farming them in an anti-organic way. Some farms use chemical fertilizers to grow seeds. We all know well eating inorganic food causes different diseases. 
So if you have your kitchen garden where you farm food with organic fertilizers, you know your vegetables, fruits, and herbs are 100% organic. Market shops also have collections of organic foods, but they cost more than regular food. Growing your organic food is best for your health and pocket. 
It Makes Your House More Greener:
Greenery makes us calm and fresh. Having green flowers, vegetables, and herbs in our garden provides multiple benefits. For example, a green environment is proven to provide a calm and satisfying feeling. It reduces stress and tiredness when we see fresh green surroundings. You can also grow flowers on the garden's boundaries to provide a unique look to the garden. 
Farming green kitchen gardens are growing very fast in urban areas. You will easily find a lot of kitchen gardens in urban cities. It's a great way to make the house greener.
It Provides A Feel Of Satisfaction:
We feel happy and satisfied by doing great and new things. It gives us a new experience and educational growth by exploring more farming opportunities. Becoming satisfied by doing work is not an easy job. Farming new and various vegetables and herbs will meet you with nature. Nature is a part of our life that introduces different feelings and vibes to humans. 
At the time of cultivation, you will become satisfied with the return of your efforts and time. Nobody wants to waste their time doing unworthy activities. Always remember that farming is a give & take work. It's essential to pay your attention and focus on farming to get a better quantity of vegetables, fruits, and herbs in kitchen gardens.
Inexpensive Way To Make Your Meals:
Some types of vegetables cost us more than other regular season foods. Kitchen gardens provide us the opportunity to save our money by growing expensive vegetables, herbs, and fruits at home. It's the best way to get a better return on investment. You will invest less money in farming at home, but it takes more effort and time. But in the end, it's great to work for a high return to our time and efforts. 
Just imagine what it will feel like when you save your vegetables, fruits, and herbs bills daily with your kitchen garden. On the other hand, you can also sell vegetables, herbs, and fruits to others which you have extra cultivated. That's the ultimate advantage of growing veggies at home, so why are we just thinking of starting a kitchen garden? Start soon as possible:)
Make You More Fit & Active:
You will become significantly fit and energetic by working on your kitchen garden farm. It burns more calories while doing farming work. A lazy person turns into an active person by just doing physical activities. Farming is a physical activity that takes action and burns extra daily required calories. 
If you are a person who is willing to put in the effort and ready to work in Sand, you are fit to have a kitchen garden. After working at your kitchen garden daily, you will notice that you are losing obesity and laziness. Kitchen vegetables will also prevent you from diseases.
Fresh Air Environment In Your House:
Fresh air is needed for each person. Who doesn't like a new environment? The answer is everyone likes a fresh air environment. Plants are a source of oxygen and food. Leaves of plants filter air by reducing dust and unwanted particles. You have fresh surroundings when you have a lot of green plants near you. 
Garden is the best example of this matter. You may notice that gardens are excellent and calm places for jogging and spending time. This situation happened because gardens have a complete collection of green plants and beautiful flowers. Kitchen gardens also make you stay grounded by connecting you with mother earth.
Improves Knowledge About Farming:
Self-learning is the best way to improve our knowledge. You will become more educated about the agriculture field with kitchen gardening. Learn how to start your kitchen garden and start implementing different methods of harvesting veggies, flowers, herbs, and spices. A degree is not required for starting your kitchen garden. Start by following video tutorials or taking advice from the nearest kitchen garden owner. 
It encourages you to learn and implement more in other fields also. Don't expect many results when it's your first time. You become better at growing and maintaining a kitchen garden day by day. Start with proper knowledge of a green kitchen garden and save your money by avoiding veggies purchased from the market.
You Become Significantly Better
Health is essential for every human being. A healthy body gives you the confidence to try and do anything. A person becomes more fit, active, and significantly better when they start consuming healthy organic food. Nobody else wants to consume unhealthy food growing up on chemical fertilizers.
A kitchen garden is an excellent source to become significantly better. When you start eating your farm food, you will become able to say it confidently that you're eating healthy food. A healthy body is the core of fitness. Don't compromise to do work which gives you advantages like a kitchen garden. 
Recycle and Use Of Vegetables:
Did you know that you can recycle waste vegetables in the kitchen garden? Yes, you can!. As we described the top advantages of a kitchen garden in this article, it's a unique and beneficial way to grow new veggies. Recycle old veggies by seeding them into kitchen garden land and farming to grow fresh vegetables. 
You can also use the waste of vegetables, herbs, and fruits in place of organic fertilizers. Just collect the waste of vegetables and throw them into the Sand. This waste provides power to Sand to grow new plants from seeds.
Final Thought!
A kitchen garden is a source of fresh air, vegetables, fruits, herbs, and a green environment. You can start your kitchen garden in a small or large area at our house. Just follow best practices for getting the best results.
We hope you like these top 10 importance of kitchen gardens. If you want additional information about it, feel free to ask us in the comment section.