It is necessary to check which bag is suitable to put in a washing machine since some bag materials lose their quality and shine after washing them in an unstable way.
If your holdall needs cleaning, you have to take care of some points to protect its shine, fabric quality, and last.
Holdalls made of leather, suede, and vinyl cannot be washed in the washing machine, but apart from these materials, you can put bags made of cotton, silicon, synthetic fibers, polyester, nylon, etc in the machine. However, you should read the care instructions on the briefcase label.
Let's dive into the guide to learn more about the topic of holdall washing in the washing machine.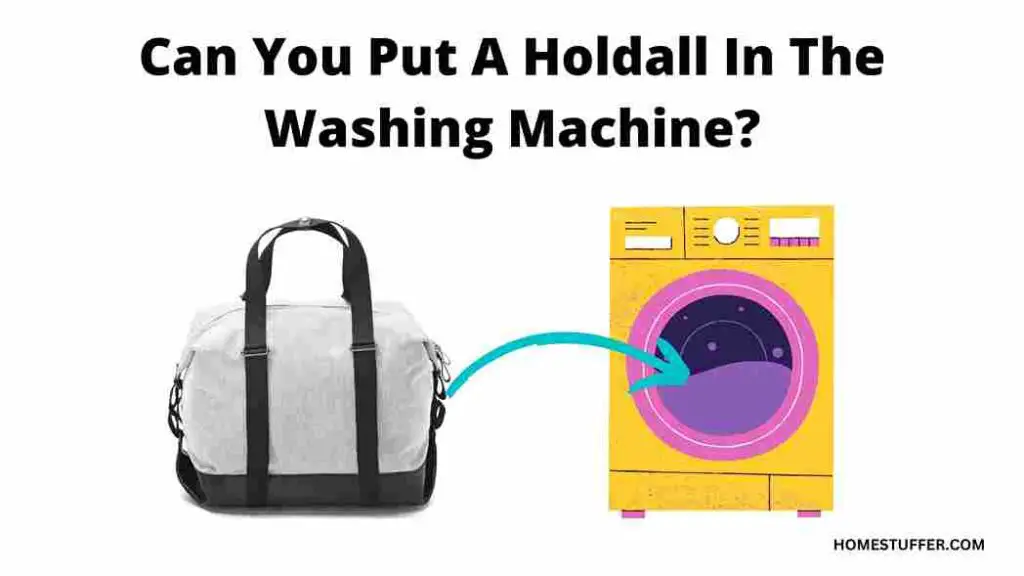 Can you Wash a Gym Bag in the Washing Machine?
Fitness geeks often face dirt and sweat smell in their gym bag. Without cleaning those gym bags, it becomes difficult to use them. 
If you're going to wash your gym bag for the first time, you may get confused about the washing method. For instance, some gym bags can be washed only with hands because of their material care.
Yes, you can wash your gym bag in the washing machine, but first, you need to check the bag material. If you're using leather, vinyl, and suede material made from a gym bag, don't put it in the washer, go with hand wash. Gym bags made of synthetic fiber, cotton, polyester, nylon, etc are suitable for machine washing.
However, some individuals are not good at noticing the material of any bag, and if you come in that category, you should follow simple tips.
You can search for your gym bag online and read the material details. If you have no internet access, find a label attached to the bag where most companies describe fabric washing instructions.
If you have put your leather, vinyl, or suede material-made gym bag inside the washing machine by mistake, You should stop the wash cycle immediately, remove the bag, and go through the hand wash method to wash the gym bag.
A machine might damage your gym bag if the bag material is not suitable for machine wash. Washers with agitators will ruin your gym bag if the fabric is not rough with the agitator.
Can you Wash a Duffel Bag in a Washing Machine?
Duffel bags come in different sizes, materials, and designs, and before washing them in the washing machine, the user should consider the necessary washing points so that it will help him to avoid making mistakes. 
Duffel bags made of polyester/nylon, cotton, and synthetic fiber are fine to wash in a washing machine. However, if the material of the bag contains non-machine washable instructions, avoid machine washing. 
As we described before, leather, vinyl, or suede material-made duffel bags cannot be washed in washing machines, since these materials become worse apart from hand washing.
It becomes easier to clean and wash a duffel bag with the use of a washing machine since it saves our time and less effort is needed in the cleaning. But unfortunately, some material-made bags are not suitable to place in a washing machine.
So what to do if your duffel bag is not machine washable?
Here's the complete solution to wash a non-machine washable bag:
If your duffel bag is not machine wash friendly, you can hand wash it. Use cold water and fill a bucket with water, next add a quality detergent in the bucket and mix them well. Put the bag inside the bucket and hand wash it gently.
Can I Wash a Leather Bag in the Machine?
Leather is a special type of material that is commonly used in expensive holdalls. As it is an expensive material, it requires the correct washing mode and extra care.
Unfortunately, leather bags are not machine washable, which means you should not put them into your washing machine. However, you can leather-made bags by hashing them manually with your hands. A gentle and genuine detergent must be required as the not suitable detergent can harsh a natural fabric.
Make sure you don't dive the leather bag into a water bucket. You just have to use warm water in a bowl and a piece of a soft cloth. 
Mix detergent in the warm water bowl, next take your leather bag and place it on a flat surface. Dive a soft piece of cloth and rub the cloth piece on the leather gently. 
Confirm all sides of the bags are clean. After cleaning the leather in this way, your bag will shine and look more beautiful. 
Don't use regular detergent for leather, low quality cleaning solutions mostly fade fabrics. Leather is a natural fabric and it needs quality and a special variety of detergents. 
Expensive bag manufacturers always attach a care instruction label included with washing mode and other important guidelines. The market has many manufacturers, you should check which leather was used to make your bag, then go forward to choose the right washing method.
How to Machine Wash a Holdall Bag?
Before the machine washes a holdall bag, you should have to check the instructions given by the company about the care of their product.
Many companies don't recommend washing their holdall bags because of the material used in manufacturing. If the manufacturer mentioned that the bag is machine washable, you can use the following steps.
The following are steps to ash a holdall bag in the washing machine:
Open the machine door, and empty the drum.
Add cold water to the drum.
Take your bag and place it correctly inside the washing tub.
Add suitable detergent in the required quantity.
Run a gentle cycle, and wait until the washing gets completed.
Air dry the holdall by handing it on a clothesline. All done!
If the holdall is made of leather, follow our leather bag cleaning steps which we described in the previous section.
Conclusion
First, check which material is used for making your holdall, next if the holdall is machine washable then you can put it in the washing machine. However, you can check the care instructions provided by the manufacturer to know more about washing modes for your bag.