Some users always plugged in their washing machines and when they need to run the appliance they just power on it. But it makes users wonder when their whirlpool washing machine turns on by itself. 
The temporary fix for this problem is only to unplug the device, but we've to fix it permanently so your washing machine won't turn on by itself.
If a washing machine is turning On by itself, there could be an issue with the printed circuit board, wiring, or in controller assembly components. It is a hardware-related issue that should be fixed as soon as possible so the device works fine.
We've described all the important and proven information to fix a whirlpool washing machine that turns on by itself. Let's dive into the guide.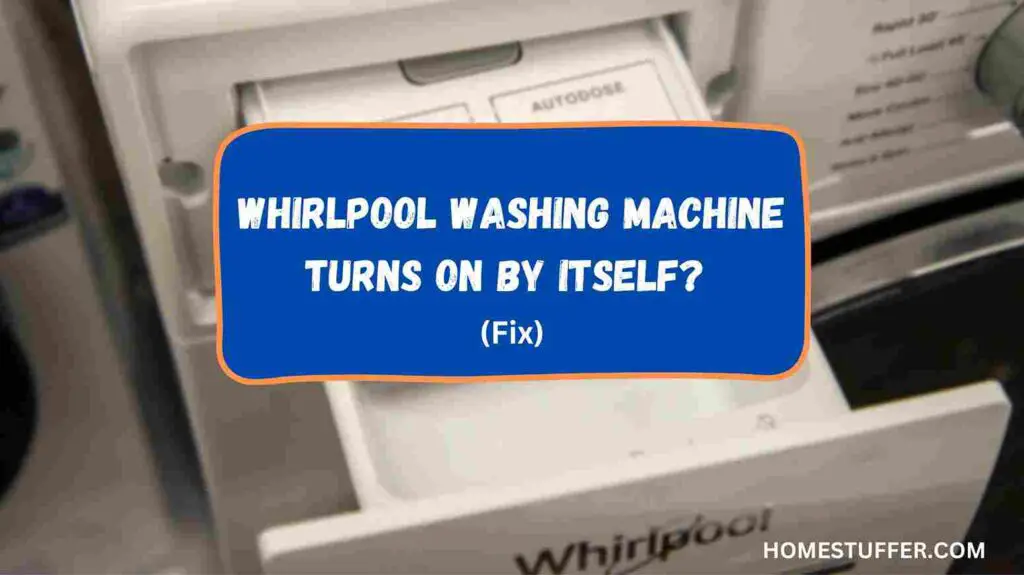 Why does my whirlpool washer turn on by itself?
No doubt, whirlpool washers make washing work easier with their automatic features. But it makes us wonder when they start turning on by themself. Sometimes the appliance starts mid-night and disturbs the owner. However, this issue could be caused by a badly printed board.
As an electric-powered appliance, this machine can have electric shocks which can burn electrical components. When the washer's control assembly fails to control the electrical supply, it can start and turn off the device by itself.
A printed circuit board is the brain of every washing machine which mostly operates all the output elements. It has a collection of capacitors, wires, resistors, diodes, transistors, inductors, and sensors. If any component from this list is damaged, it can affect the working of your washing machine.
Technically, when we press the power to turn on the washing machine, it provides power to the circuit board. In case the power switch is faulty and providing electricity to the circuit board while it's turned off, a faulty washer can start the washing machine.
Users or electrical technicians have to manually check the malfunctioning component to detect and fix the actual cause. As this problem can be caused by several electrical components, we cannot just take the guess.
How to Fix A Whirlpool Washing Machine That Turns on by Itself?
You have to test the internal part to detect the cause and fix it. To fix this issue you should take the help of someone who has electrical technician work experience. Otherwise, try to follow this section intentionally, so you cannot end up with another problem. 
A screwdriver, soldering tool, desoldering station, and new components which are faulty are required. This fix may take 20 – 40 minutes to complete. However, how much time you're going to spend on this fix-procedure depends on your skills and experience.
Here's how you can fix a washing machine that turns on by itself.
First, try to reset the machine using the control dial.
Rotate the control dial anticlockwise until it comes at a 90-degree angle at normal.
Now, unplug the washing machine from the wall outlet. Wait about a minute before turning off the washing machine.
Now, you will hear a clicking sound, which means the system is booting up.
Once one minute is completed, plug in the cord again. Reset done.
If the above reset doesn't fix the problem, try the below steps.
Now, we will detect the hardware problem that's causing it.
Unplug the appliance to ensure your safety.
Have a screwdriver. Open the back cover. Open all the screws one by one and consider collecting them in one place.
Access the power switch and see if there is any damage or not. If the switch is burnt, you have to replace it. Find a similar switch that matches the model number of the machine. If the switch and its wiring look fine, proceed further.
Find the control panel which looks green and has many small components on it.
Disconnect all the wiring from the control panel(circuit board).
Remove the control board from the machine and place it on a safe counter place.
If any component seems burnt or in bad shape, consider replacing it.
Use a desoldering station to remove the faulty component from the board.
Use the same specification having components for replacement.
Fit the new component using a soldering tool. Must take care of positive and negative sides.
Fit the control board back into the washing machine and connect the wire in the order they were.
Assemble the back cover back and turn on the machine. Hope this will fix the issue. In case you have to replace the circuit board, do that. Otherwise, contact company support.
Can A Washing Machine Turn Itself On?
Nowadays, you can find different technology built and various types of washing machines. Such as manual, semi-automatic, automatic, and fully-automatic washing machines. 
But, no washing offers a feature that turns on itself. In simple words, no washing machine can turn on itself. But, if there's a hardware-related fault in a washing machine, it can turn on itself.
Even a fully automatic washing machine doesn't turn itself on. If it is happening, you have to detect and fix the malfunction. 
In our research related to this topic, we found that some people had experienced this issue. You're not the only one. A washing machine that turns on by itself can disturb you when it turns on randomly. 
Furthermore, it will also be an issue when it automatically fails and drains the water. Which costs you extra power and a water bill. We all know the importance of well-working appliances. You must fix the issue when it gets detected.