Many individuals put their devices in their preferred place to store or use them. If you want to put a washing machine in a cupboard, this post is for you.
If there is a cupboard in your bathroom or another place, you must consider some points to store a washer there.
Fortunately, the washing machine can be placed in a cupboard if the space is suitable for the device's size. You should have a cold and hot water supply, an electrical socket, and a drain connection near to cabinet. If all the necessary facilities are available in the space, there will be no problems with dampness or anything else.
Let's dive into the guide to know more about storing washers in a cupboard!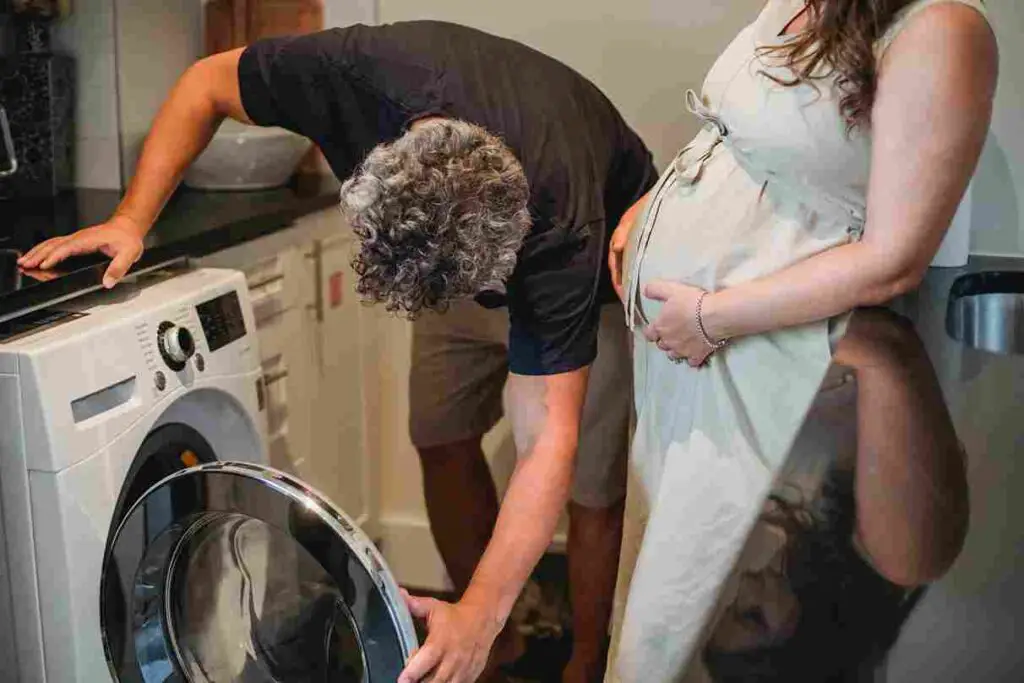 Can you put a Washing Machine in an Airing Cupboard?
The answer to this question is no and yes as it depends on the specification of the airing cupboard.
The washing machine not only required space to stand, but it also needed a drain connection for waste, water supply, and electric socket. As we know, an airing cabinet does not have all the required facilities, it's hard or impossible to set the washing machine there.
Not all types of cabinets are suitable for placing items. Laundry experts don't recommend using airing cupboards for storing items aside from wet clothes. 
As the airing space serves as facilities; for storing hot water tanks and drying wet clothes, users should consider it an airing room.
It's not a great idea for doing laundry in an airing cabinet since its space is not mainly made for putting any item. 
If you want to put the washer in the bathroom, find a suitable cabinet where you have enough space for the device, an electric socket, a drain connection, and a water supply.
Most airing cupboards are small in breadth and are not capable of handling the height of big-sized devices. 
You might not find any person who had done a washer installation in the airing cupboard. However, it may be possible with other bathroom cabinets.
Can I put a Freestanding Washing Machine in a Cupboard?
As these models are easy to operate and kept, Freestanding washing machines are chosen by many users. If you want to integrate your freestanding washer, cabinet-type spaces may be a good idea for it.
The one thing you need to check is the space of the cabinet because freestanding washing machines are bigger and require a maximum area having cabinets to be put there.
If you have a good and bigger vacant cabinet in your kitchen or bathroom, you can use it for storing devices. The type of washing machine doesn't matter, only size, requirements, and facilities nearest the cupboard play a worthy role in the installation.
We also have a freestanding washer model placed in our kitchen cupboard, and fortunately, had no damp problems so far. The main thing is knowledge and proper guidance when it comes to installing or integrating a washer or any device anywhere in the house.
Most people have no electric socket in their bathrooms and their cabinets are not big enough to store appliances. Electric sockets are required because electricity is the main source to run a washing machine. If there is no electric socket, it's impossible to install an electrical device there.
Can you put a Washing Machine in the Kitchen?
A lot of people prefer kitchen space to their washing machines. The kitchen is a room where most women spend a few hours every day.
Yes, you can store your washing machine in your kitchen. Using a free cupboard is a great space to integrate a washing machine. In the kitchen, households have access to electric sockets, drain connections, and water supply, so we can easily install a washing machine in the kitchen cabinets.
Most people use their countertops under the area to store washing machines. If there is no space to put big appliances in your kitchen, first you need to free the space according to the size of the appliance.
Studies show that British people have their washing machines in the kitchen because they don't prefer to include an electrical socket in the bathroom.
People with joint families have many things in their houses. Those things cover most of the space in the house. If you also don't have any free space in your house, you should check the space in the kitchen to put your washer there.
The washing machine doesn't disturb the look of the kitchen when it is installed properly. Don't place it where you want, always choose that space where you can integrate it near the drain, waster, and power supplies.
How can I Hide my Washing Machine in my Cupboard?
When house owner hides their washing machine in their cupboards, it increases the beauty of space and also maximizes the space.
Generally, every house has cupboards in two places; the kitchen and the bathroom. It's not hard to hide the machine if the process gets done properly. Just take care of some points that we described below.
First, check the size of your washing machine. When you know the actual size of the washer dimensions, you will choose the right cupboard for it. Notice a few cupboards but don't decide on only one because of some points.
Let's suppose, you select a cupboard in the bathroom where water and drain supplies are available, but the electric socket is missing. In that case, you need to go for a kitchen cabinet since in kitchens all requirements are always available.
After selecting the cupboard, place your washing machine inside the cupboard space. Take the help of a plumber if you don't know plumbing skills. 
Connect water supply piles to the device and connect the drain hose of the washing machine with the drain connection. You can cut the drain hose pipe if you realize it's big and not suitable for fitting. Plugin the device into the nearest socket.
Close the door of the cupboard and hide the washing machine. Open the door when you need to wash your clothes. All done!
Conclusion
If you have free space in the cupboard and the size of the free space is suitable for washing, you can store it there. But make sure, the connection to the drain, electric socket, and water supply is close to the selected cabinet. 
However, you should use bathroom and kitchen cabinets to store your washer. If you are worried about dampness, don't worry, it will not cause any dampness since it's a secure method for the device and cabin.